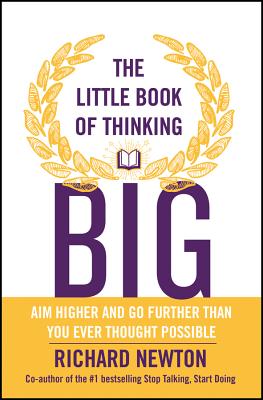 The Little Book of Thinking Big (Paperback)
Capstone, 9780857085856, 184pp.
Publication Date: December 22, 2014
* Individual store prices may vary.
Description
Sunday Times #1 bestseller and long-awaited follow-up to the #1 bestselling Stop Talking, Start Doing

You can think big or you can think small, it all starts in the mind. What have you got to lose? If you aim for the stars you might just get there. Sometimes it pays off to think BIG and Richard Newton is here to get us thinking on a bigger scale than we ever imagined.
With the right thinking tools and the right approach you can release your inspiration and creativity, reset your ambition and direct your attention to the things that truly matter to you. And that can change your life.
Short and punchy with quick tips and inspiring graphics, The Little Book of Thinking Big will have your imagination, creativity and determination firing on all cylinders. You'll come away with a set of BIG goals to fuel and drive your BIG life.
Here's where it starts. This is a reset button. Push it.
Think bigger.
About the Author
Richard Newton is an entrepreneur, consultant and writer. After spending almost ten years writing about business for The Sunday Telegraph and The Mail on Sunday, Richard decided to switch sides, walk the talk and run his own business. He co-founded a software company that supplies brand management solutions for many of the world's largest consumer brands.He is now co-founder, director, board adviser and mentor at a number of tech companies and start-ups including Call Trunk, Screendragon and Txt2Buy. (Calltrunk, an audio and video search tool, is tipped to be one of the fastest growing search companies of 2014.)He runs consultancy Newton Principles and writes about being creative in business, the importance of good language in business and the urgency to do things.