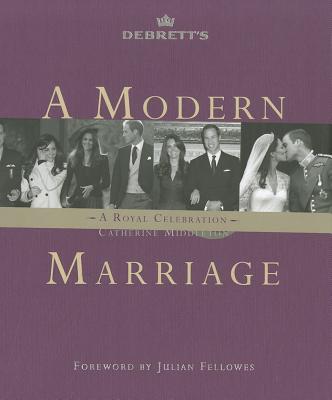 A Modern Royal Marriage
Prince William of Wales & Catherine Middleton
Hardcover

* Individual store prices may vary.
Description
Debrett's: A Modern Royal Marriageoffers an exclusive perspective on the marriage of Prince William and Kate Middleton. This beautiful book celebrates and commemorates their relationship, from their first dates right up to the marriage ceremony and honeymoon, and is sumptuously illustrated with gorgeous photographs and filled with quirky facts about the royal couple. The Debrett's experts also provide an insight into the royals themselves, with a biography of both William and Kate, the Royal Family tree and the genealogy of the Middleton family. There is a section devoted entirely to the wedding ceremony, with details of The Dress, bridesmaids, flowers, music and Westminster Abbey, and the role the iconic building has played in Royal Weddings through the ages. Debrett's: A Modern Royal Marriageis a unique book and the perfect Royal Wedding companion.
Simon & Schuster (UK), 9780857206855, 176pp.
Publication Date: November 2, 2011
About the Author
Debrett's is a specialist publisher founded in 1769, founded on guides to peerage and baronetage, and known for publishing a range of guides on traditional British etiquette. Debrett's is referenced as an authority in such classic fiction as Sherlock Holmes stories, P.G. Wodehouse novels, Oscar Wilde works, and "Brideshead Revisited." Julian Fellowes is an actor, the author of the novel" Snobs," the Oscar-winning screenwriter of such films as "Gosford Park "and "The Tourist," and the creator of "Downton Abbey."
or
Not Currently Available for Direct Purchase