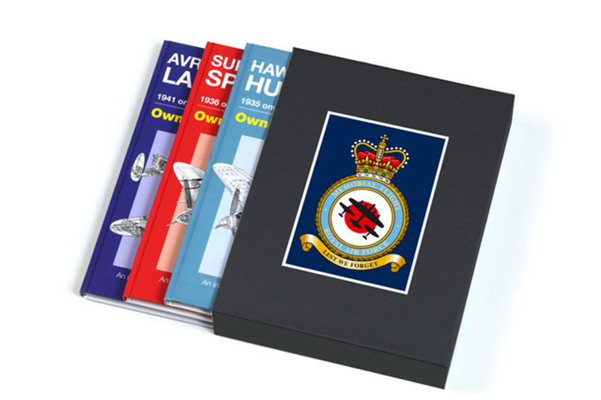 Battle of Britain Memorial Flight Boxed Set (Hardcover)
Haynes Publishing UK, 9780857330550, 480pp.
Publication Date: October 1, 2010
Other Editions of This Title:
Hardcover (9/19/2022)
Hardcover (11/1/2007)
* Individual store prices may vary.
Description
This unique three-book boxed set of Haynes aircraft manuals is published jointly with the RAF Battle of Britain Memorial Flight (BBMF). The BBMF operates five Spitfires, two Hurricanes, a Lancaster and a Dakota, and they perform at flying displays all over Britain during the summer display season. In the three manuals in this special boxed set you can read all about how the BBMF maintains and operates its historic Supermarine Spitfires, Hawker Hurricanes and the mighty Avro Lancaster, which are also among the greatest combat aircraft of the 20th century.
About the Author
Jarrod Cotter is co-author of the Haynes Avro Lancaster Manual, author of the Haynes P-51 Mustang Manual and Living Lancasters (Sutton). He is a former editor of FlyPast, Aviation Classics and Aeroplane Monthly magazines. He lives in Lincolnshire.
Paul Blackah joined the RAF in 1976 and trained as an airframe fitter. In 1993 he was posted to the Battle of Britain Memorial Flight. His specialized knowledge of vintage aircraft is considered crucial to the maintenance of the aircraft in the flight. In the 1990s Paul was closely involved in the restoration-to-flight of the Messerschmitt Bf109F 'Black 6'. He is co-author with Alfred Price of the Supermarine Spitfire Manual. He lives in Lincolnshire, England.
Malcolm Lowe has written for journals and periodicals world-wide on aviation, space-flight, classic cars and ships, and has built a reputation for careful and authoritative research, based where possible on original documentation and photography. He has also written for more than thirty magazines world-wide, and most recently has been an historical contributor to such leading magazines as Aeroplane Monthly in Britain, Flieger Magazin and Aero International in Germany and Popular Mechanics in the US. He is a resident of Dorset, England.
Jarrod Cotter is an aviation author and editor of Aviation Classics magaine.Malcolm V. Lowe is an aviation historian and author.Dr. Alfred Price is a world authority on the Spitfire.
or
Not Currently Available for Direct Purchase