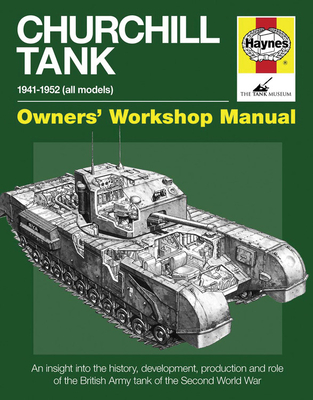 Churchill Tank 1941-1952 (all models) (Hardcover)
An insight into the history, development, production and role of the British Army (Owners' Workshop Manual)
Haynes Publishing UK, 9780857332325, 160pp.
Publication Date: October 1, 2013
* Individual store prices may vary.
Description
The Churchill tank has a strong case to be acclaimed the best British tank of World War 2. This is not to discount the achievements of the later Comet, but this tank only arrived as the Rhine was being crossed in 1945 and saw limited action. The Churchill tank slugged it out in all kinds of terrain – and proved itself to be capable of absorbing an astonishing amount of punishment. When hit, it was less prone than the Sherman to catching fire immediately, and it was certainly much better armored. Although slower than its contemporary the Cromwell, the Churchill's true role was as an Infantry tank – to fight alongside soldiers on foot. In this role it performed superbly. This manual is based around the complete restoration in the UK of Churchill Tank Mk IV, T31579, which was built in 1941. The Churchill Mk IV was an evolution of the Mk III in which the principal difference was the cast turret, replacing the welded one on the Mk III. The armament was either a 6-pounder or a 75mm gun. Together with the Mk III, the Churchill Mk IV was present in most actions in Italy and North West Europe and with the Mk III it was the mainstay for most Churchill tank-equipped regiments after 1942.

About the Author
Nigel Montgomery, a barrister, owns three Churchill tanks that he is in the process of restoring to running order. He lives in Kent.
or
Not Currently Available for Direct Purchase