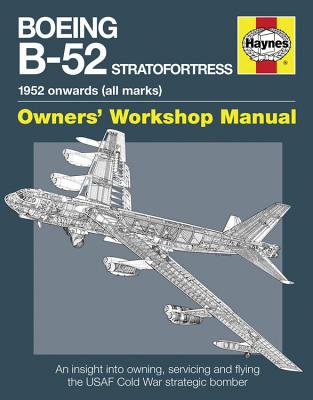 Boeing B-52 Stratofortress (Hardcover)
1952 onwards (all marks) (Owners' Workshop Manual)
Haynes Publishing UK, 9780857332592, 176pp.
Publication Date: May 1, 2013
* Individual store prices may vary.
Description
The eight-engine Boeing B-52 Stratofortress jet was the USA's first long-range, swept-wing heavy bomber. It began life as an intercontinental, high-altitude Cold War nuclear bomber. With each new variant the B-52 increased in range, power and capability, seeing active service in the Vietnam War, both Gulf Wars of 1991 and 2003, and over Afghanistan in 2001. Author Steve Davies recalls its combat history, gets up close to look under the skin of the B-52, and talks to the flight crews and maintainers of this legendary aircraft.

About the Author
Steve Davies is a freelance aviation journalist and photographer living in Cambridge, England. He is the author of F-15E Units in Combat 1991-2005 (Osprey), F-15C Units in Combat (Osprey), F-15C/E Units in OIF (Osprey), F-15E Strike Eagle: All Weather Attack Aircraft (Airlife), and F-15 Eagle & Strike Eagle: Combat Legends (Airlife). He is also a regular contributor to the aviation press including International Air Power Review, Combat Aircraft, Air Forces Monthly, Aircraft Illustrated and Air Pictorial.