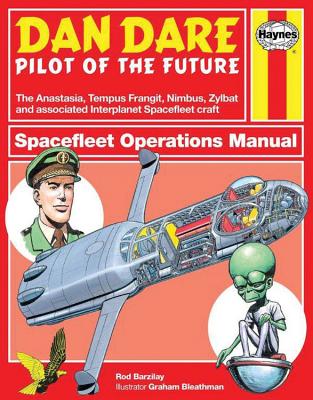 Dan Dare (Hardcover)
Spacefleet Operations (Owners' Workshop Manual)
Haynes Publishing UK, 9780857332868, 128pp.
Publication Date: June 1, 2013
* Individual store prices may vary.
Description
Dan Dare is easily the most famous British comic hero. His adventures appeared in the original Eagle magazine during the 1950s and 1960s, but he also featured briefly in 2000AD before returning in the re-launched Eagle of the 1980s. This innovative Haynes Manual takes a detailed look inside the spaceships, space stations and various other craft that played such a huge part in bringing the excitement of space travel to the stories. Beautifully illustrated with cutaway artwork by Graham Bleathman, and supported by fabulous contemporary comic-strip art, this is the ultimate technical guide to the spaceships of Dan Dare and a wonderful addition to every comic fan's bookshelf.
About the Author
Rod Barzilay grew up with Dan Dare and Eagle magazine and is a lifelong enthusiast. In 2003 he launched Spaceship Away magazine, which features new Dan Dare stories illustrated in the original style along with other sci-fi stories. Graham Bleathman, an illustrator famous for his detailed cutaway drawings, has previously provided artwork for the Haynes Thunderbirds Manual and two Wallace & Gromit Cracking Contraptions Manuals. Sam Denham is an authority on Thunderbirds and has written several books on the subject. Graham Bleathman is renowned and respected for his cutaway drawings of the Thunderbirds and no one knows more about their inner workings.