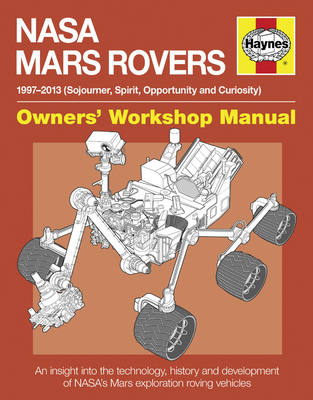 NASA Mars Rovers Manual (Hardcover)
1997-2013 (Sojourner, Spirit, Opportunity and Curiosity) (Owners' Workshop Manual)
Haynes Publishing UK, 9780857333704, 192pp.
Publication Date: June 1, 2013
* Individual store prices may vary.
Description
Is there life on Mars? This age-old question has prompted many missions to Mars, with the most recent rover, Curiosity, having safely landed in August 2012 amid a blaze of publicity. This manual covers the development, design and engineering of three generations of Mars rover: Sojourner, which landed in 1997, was the size of a microwave; Spirit and Opportunity, both the size of a shopping cart, followed in 2004; and Curiosity is the size of a car, with a design life of two years. Learn how these machines work as well as what they have found and hope to discover - and look forward to the possibility that humans may yet set foot on the Red Planet.
About the Author
Dr. David Baker worked with NASA on the Gemini, Apollo and Shuttle programmes between 1965 and 1990. He has written more than 80 books on spaceflight technology and is the author of the Haynes NASA Space Shuttle Manual, International Space Station Manual, NASA Mars Rovers Manual, Apollo 13 Manual, Soyuz Manual, Rocket Manual and forthcoming Hubble Space Telescope Manual. He lives in East Sussex.