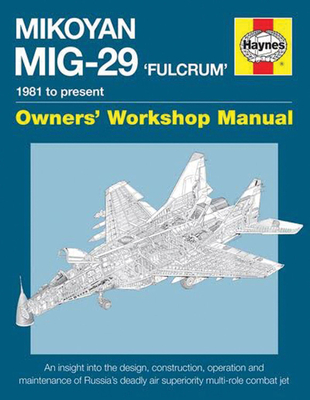 Mikoyan MiG-29 'Fulcrum' Manual (Hardcover)
1981 to present (Owners' Workshop Manual)
Haynes Publishing UK, 9780857333971, 160pp.
Publication Date: January 15, 2017
* Individual store prices may vary.
Description
The Soviet MiG-29 air superiority fighter was developed by the Mikoyan Design Bureau in the mid-1970s to counter the new generation of American high performance interceptor fighters like the McDonnell Douglas F-15 Eagle and the General Dynamics F-16 Fighting Falcon.
About the Author
Dr. David Baker worked with NASA on the Gemini, Apollo and Shuttle programmes between 1965 and 1990. He has written more than 80 books on spaceflight technology and is the author of the Haynes NASA Space Shuttle Manual, International Space Station Manual, NASA Mars Rovers Manual, Apollo 13 Manual, Soyuz Manual, Rocket Manual and forthcoming Hubble Space Telescope Manual. He lives in East Sussex.