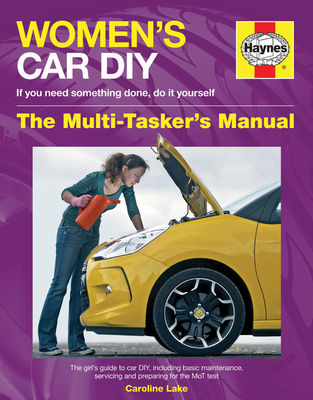 Women's Car DIY - If you need something done, do it yourself - The Multi-Tasker's Manual (Hardcover)
The girl's guide to car DIY, including basic maintenance, service and preparing for the MoT test (Haynes Manuals)
Haynes Publishing UK, 9780857334077, 128pp.
Publication Date: October 1, 2014
* Individual store prices may vary.
Description
Men work on cars and women cook. Men put up shelves and women make curtains. This used to be typical but not any more, with tasks in the home often shared equally. But women can go a step further and become as confident with a jack as with a power drill. This empowering manual, written by a female car mechanic, explains all areas of owning, maintaining and caring for your car. After absorbing the guidance in this manual you will know how to deal with a puncture, replace a brake light or even do an oil change – and when to challenge a garage mechanic's advice.
About the Author
As a teenager, Caroline Lake was more likely to be found reading What Car? than Smash Hits and she could quote 0–60mph times galore. For her 16th birthday she was given a Triumph Dolomite as a minor restoration project and with her father's help and a Haynes manual she managed to get it on the road. She went into the garage trade, became a qualified MoT tester and in 2006 opened Caroline's Cars in Norwich, offering servicing, repairs and MoTs, along with a training school where she teaches women (and men) car care and maintenance.
or
Not Currently Available for Direct Purchase