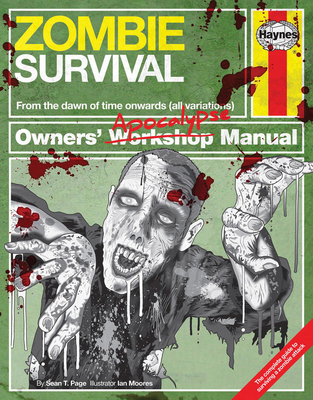 Zombie Survival Manual (Hardcover)
From the dawn of time onwards (all variations)
Haynes Publishing UK, 9780857334732, 128pp.
Publication Date: November 1, 2013
* Individual store prices may vary.
Description
What would you do in the event of a zombie apocalypse? Would you know how to protect your family, forage for food and hold your own if confronted by the undead? Packed with vital information about how to prepare yourself (mentally and physically) and your surroundings for attack, the Zombie Survival Manual will also include advice on how to flourish in a post-apocalyptic world. Accompanied by illustrations, maps, diagrams and step-by-step instructions, this manual will be essential reading for those interested in protecting themselves, their families and society at large from the living dead.
About the Author
Sean T Page is a self-proclaimed zombie survivalist. His degree from the London School of Economics has given him the skills and confidence to advise government and other public bodies on what to do in the event of a zombie apocalypse. He launched the Ministry of Zombies in 2009 and has published The Official Zombie Handbook and War Against the Walking Dead.
Praise For Zombie Survival Manual: From the dawn of time onwards (all variations)…
"This is the book that will set you straight as to which zombie movies are "factually" spot-on and which ones will get your ass killed if you believe them. Fun fact: zombies generally don't run, but the freshest of the newly-turned will be much quicker than those already beginning to decompose. It is this kind of myth-building that will be the most interesting to zombie buffs, and which raises the book above a mere novelty and adds a storytelling dimension, like a documentary-style horror film that uses the conventions of nonfiction film to add a layer of realism. Not that the book is a narrative story in any traditional sense, nor is it scary in any way. It's a tongue-in-cheek, strictly-for-entertainment coffee table book, not meant to be devoured zombie-style, but casually consumed in bite-sized chunks. That said, it's awfully hard to put down once you've started. That it is rich in backstory will come as no surprise to anyone familiar with Sean T. Page's other work. Prior to this manual, he has released two other zombie apocalypse preparedness handbooks, and a number of zombie-themed short stories and novels. This is someone who has spent a lot of time contemplating a ghoul-infested end of times. The Zombie Survival Manual is a bit of a departure for Page, not thematically, of course, but in format. This Haynes Manual is heavily illustrated with infographic-style vector art and diagrams perfectly suited for the medium he is imitating." - From Midnight With Love
or
Not Currently Available for Direct Purchase