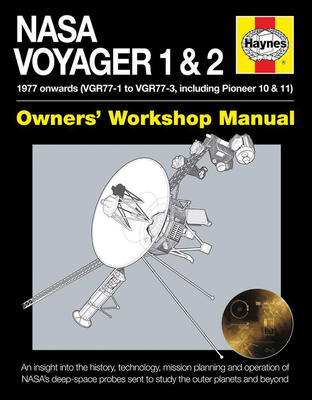 NASA Voyager 1 & 2 Owners' Workshop Manual - 1977 onwards (VGR77-1 to VGR77-3, including Pioneer 10 & 11) (Hardcover)
An insight into the history, technology, mission planning and operation of NASA's deep-space probes sent to study the outer planets and beyond
Haynes Publishing UK, 9780857337757, 200pp.
Publication Date: August 25, 2015
* Individual store prices may vary.
Description
Voyager 1 has recently crossed the boundary of our solar system and passed into interstellar space, and Voyager 2 is likely to follow suit, on a different path, between 2016 and 2017. The two Voyager probes will continue to transmit details of discoveries beyond our solar system until at least 2020.
About the Author
Dr. Christopher Riley is a broadcaster and filmmaker specializing in history and science documentaries. In 2004, he won the Sir Arthur Clarke award for the BBC1 blockbuster series Space Odyssey: Voyage to the Planets. His film In the Shadow of the Moon: The Story of the Apollo Astronauts, won the World Cinema Audience Award in 2007.