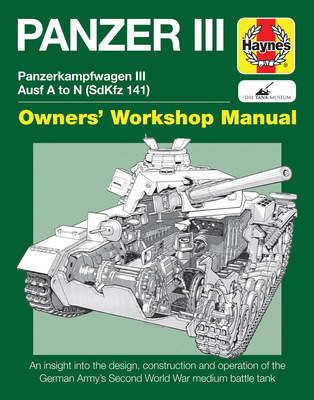 Panzer III (Hardcover)
Panzerkampfwagen III Ausf. A to N (SdKfz 141) (Owners' Workshop Manual)
Haynes Publishing UK, 9780857338273, 160pp.
Publication Date: February 15, 2017
* Individual store prices may vary.
Description
When Hitler unleashed Operation Barbarossa against the Soviet Union in June 1941, the 23-tonne Panzer III was in the vanguard of the German assault. The German Panzer III tank (official designation Panzerkampfwagen III, Sd Kfz 141, abbreviated to PzKpfw III) saw widespread use during the Second World War campaigns in Poland, France, the Soviet Union and the Balkans, and in North Africa with the famous Afrika Korps. A small number were still in use in Normandy (1944), at Anzio (1943), in Norway and Finland and in Operation Market Garden (1944). Some 5,774 were built between 1937 and 1943. Although the Panzer III was conceived to operate alongside the infantry-supporting Panzer IV to fight other tanks and armoured fighting vehicles, the roles were reversed when the German Army came up against the formidable Soviet T-34 tank. A tank with a more powerful anti-tank gun was needed so the Panzer IV with its larger turret ring and long-barrelled 7.5cm KwK 40 gun was used in tank-versus-tank battles, with the Panzer III being redeployed in the infantry support role. Production of the Panzer III ended in 1943, although its dependable chassis provided hulls for the Sturmgeschutz III (StuG III) assault gun, one of the most successful of the war, until the end of the war. Centrepiece of the Haynes Panzer III Tank Manual is the Bovington Tank Museum's PzKpfw III Ausf L, which has been restored to running condition. This tank belonged to the same battalion as the museum's famous Tiger I (the 501st (Heavy) Panzer Abteilung) and is an early production Ausf L, modified for tropical service. It was shipped via Naples to Benghazi in Libya in July 1942 and was issued to the 8th Panzer Regiment, part of the 15th Panzer Division and probably fought in the Battle of Alam Halfa. It was subsequently captured by the British Army and shipped to the UK.The Tank Museum has restored the tank to running order, has repainted it in its original camouflage and markings and is currently replacing many of the ancillary tools and equipment that it carried.
About the Author
Mike Hayton was closely involved in the restoration of the Tank Museum's Panzer III to running order and is co-author of the Haynes Tiger Tank Manual.
Dick Taylor is a former British Army Challenger tank commander and now works fulltime as an author specialising in armoured fighting vehicles. Dick is author of the Haynes Challenger 1 MBT Manual.