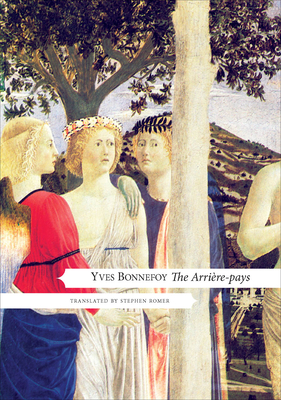 The Arrière-Pays (The French List)
Hardcover

* Individual store prices may vary.
Other Editions of This Title:
Paperback (9/1/2005)
Description
Since the publication of his first book in 1953, Yves Bonnefoy has become one of the most important French poets of the postwar years. At last, we have the long-awaited English translation of Yves Bonnefoy's celebrated work, L'Arrière-pays, which takes us to the heart of his creative process and to the very core of his poetic spirit. In his poem, "The Convex Mirror," Bonnefoy writes: "Look at them down there, at that crossroads, / They seem to hesitate, then go on." The idea of the crossroads haunts Bonnefoy's work, as he is troubled by the idea that the path not taken may lead to the arrière-pays, a place of greater plenitude, and of more authentic being—an "elsewhere in the absolute." Seized by this fear that what he terms "presence" exists always somewhere else, a little further on, Bonnefoy here sets out on a labyrinthine quest to find traces of this "original place," which he locates not only in objects of knowledge and experience as diverse as the deserts of Asia, a hill fort in India, a church in Armenia, the painting of Piero della Francesca but also, crucially, in the undivided intensity of his experiences as a child. Written with a visionary grace, The Arrière-pays is a spiritual testament to art, philosophy, and poetry. Enriched by a new preface by the poet, this volume also includes three recent essays in which he returns to his original account of an ethical and aesthetic haunting, one that recounts the struggle between our instinct to idealize—what he deems our eternal Platonism—and the equally strong need to combat this and to be reconciled with our nature as finite beings, made of flesh and blood, in the world of the here and now.
Praise For The Arrière-Pays (The French List)…
"Forty years ago, Bonnefoy published a somewhat unclassifiable book entitled L'Arrière-pays. . . . Now at last it has been fluently, indeed brilliantly, translated into English by Stephen Romer. . . . Bonnefoy's beautiful prose, lovingly rendered for the most part by Romer, eschews technical language and is shot through with the kind of reverie and music that belong to the province of poetry and not philosophy. . . . The Arrière-pays is a poet's book above all."
— Bruce Whiteman

"The Arrière-pays is an immersion in the heady waters of a profound aesthetic consciousness. . . . Yves Bonnefoy has modeled how to conduct enquiry into an aspect of the mind, a purely subjective and intimate endeavor, bringing in the signs, symbols, and imagery that this aspect has used as vehicle. The result is an extraordinary contribution to art criticism, fresh evidence that Bonnefoy has earned his lionized reputation. The Arrière-pays is a visible manifestation of intellectual and spiritual engagement. It is a thing of surpassing beauty."
— Nicole Zdeb

 "Yves Bonnefoy's The Arrière-pays is an exemplary translation by Stephen Romer. This is its first appearance in English and Seagull Books has produced a handsome book, interspersed with images of the paintings and places the text visits in its quest for what lies 'over there,' out of sight. It is a gift to literature." A "Books of the Year" Selection
— Times Literary Supplement

"[Translator] Stephen Romer has respected Bonnefoy's sentences with their hesitations and additions, phrase appended to clause as the author attempts to refine his thought; the text is subtle, lyric, analytically clear and, most important, pleasurable. Like a Piero painting, it is a layering of transparencies, with thoughts and perceptions as primary as those that concern a poet's childhood, and as poignant as the enigmas of great art."
— Beverley Bie Brahic

"The Arrière-pays, published in 1972, appears now in English for the first time. Stephen Romer's translation manages to capture both Bonnefoy's precision of statement and perception and his discomfiture and restlessness. The narrative tracks a traveler who in turn is hunting for the presence of le arrière-pays while planning a text called An Unknown Feeling. Bounding between exaltation and constraint, he ultimately seems to settle for a recognition of presence in the world itself, not in the dream."
— Ron Slate
Seagull Books, 9780857420268, 219pp.
Publication Date: August 15, 2012
About the Author
Stephen Romer is a poet, critic, and translator, and a specialist in Franco-British Modernism. He is currently Stipendiary Lecturer in French at Brasenose College, Oxford.
or
Not Currently Available for Direct Purchase