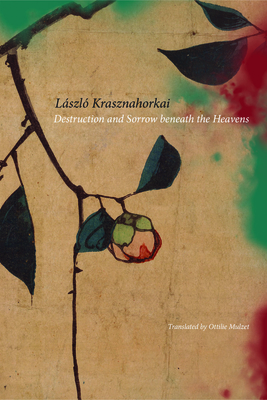 Destruction and Sorrow beneath the Heavens
Reportage
Hardcover

* Individual store prices may vary.
Other Editions of This Title:
Paperback (6/15/2018)
Description
Known for his brilliantly dark fictional visions, László Krasznahorkai is one of the most respected European writers of his generation and the winner of the 2015 Man Booker International Prize. Here, he brings us on a journey through China at the dawn of the new millennium. On the precipice of its emergence as a global power, China is experiencing cataclysms of modernity as its harsh Maoist strictures meet the chaotic flux of globalism. What remains of the Middle Kingdom's ancient cultural riches? And can a Westerner truly understand China's past and present—or the murky waters where the two meet?

Destruction and Sorrow beneath the Heavens is both a travel memoir and the chronicle of a distinct intellectual shift as one of the most captivating contemporary writers and thinkers begins to engage with the cultures of Asia and the legacies of its interactions with Europe in a newly globalized society. Rendered in English by award-winning translator Ottilie Mulzet, Destruction and Sorrow beneath the Heavens is an important work, marking the emergence of Krasznahorkai as a truly global novelist.

Praise for Krasznahorkai
"The contemporary Hungarian master of the apocalypse."—Susan Sontag

"Krasznahorkai delights in unorthodox description; no object is too insignificant for his worrying gaze. . . . He offers us stories that are relentlessly generative and defiantly irresolvable. They are haunting, pleasantly weird, and ultimately, bigger than the worlds they inhabit."—New York Times

"Krasznahorkai is an expert with the complexity of human obsessions. Each of his books feel like an event, a revelation."—Daily Beast
Praise For Destruction and Sorrow beneath the Heavens: Reportage…
"A quest to discover the remaining artifacts and present-day incarnations of classical Chinese culture takes Man Booker International-winner Krasznahorkai on an illuminating, melancholy journey through contemporary China in this occasionally frustrating yet often dazzling travel memoir."
— Publishers Weekly
"Destruction and Sorrow Beneath the Heavens, a book of quasi-fictional reportage by László Krasznahorkai (who styles himself the poet Stein throughout), is a travelogue under modern China's apocalyptic sky. The book, which many will find controversial, details Stein's pilgrimage in search of the authentic current of Chinese tradition, a search that leads him to denounce the country's so-called economic miracle as a general collapse. . . . Stein is only too aware that he is at odds with the times, and that perhaps he is beyond understanding modern China. . . . Such is the sorrow of the title of this book, a long lament for the final ancient civilization of world history. We are called upon to wonder: is there anywhere an individual can experience the condition of perfect tranquility?"
— Los Angeles Review of Books
"A book-length investigation that represents a different kind of transfiguration for an author best known in the Anglophone world for his fiction. . . . Destruction and Sorrow Beneath the Heavens is a travelogue in the broadest sense of the term, and like all great travelogues it links a change in scenery to a change in emotional state. . . . For so many years, Krasznahorkai's name was synonymous with apocalypse. Now Krasznahorkai has transformed and transcended; he has changed from an angry prophet to a wide-eyed archivist and a hopeful seeker."
— New Republic
"Offering an interesting glimpse—from a foreign perspective—of near-contemporary China, Destruction and Sorrow beneath the Heavens is also an interesting (if somewhat limited) consideration of the tremendous cultural—in every respect—changes China has undergone (and continues to), addressing issues of relevance elsewhere too (as such loss of tradition and cultural decline is hardly unique to China, even as it often manifests itself differently elsewhere)."
— Complete Review
"Of all the 'China books' one may read this year, or next, or possibly the rest of the decade, none is likely to be as confounding, or enthralling, as Krasznahorkai's Destruction and Sorrow Beneath the Heavens. . . . There is a literary sensibility to the writing that is unmatched by any other book I can recall in this vaguely-defined genre. Krasznahorkai's intellect radiates from the pages. He is no simple observer: he intervenes, meddles, berates, insists—and ponders."
— Asian Review of Books
"The narrator travels through modern 'global', yet somehow still Maoist, China, trying to reach the past, trying to see what remains of the Middle Kingdom's ancient cultural riches, and trying to reach the city of Jiuhuashan (always asking: 'This still isn't Jiuhuashan, is it?'). But the last thing Krasznahorkai is ever going to offer us is false hope or neat resolutions."
— Epler, Barbara
"Masterfully translated by Mulzet, Destruction and Sorrow beneath the Heavens . . . bridges the dark visions of Krasznahorkai's earlier work to the Buddhist-like meditations of his more recent books. . . . Krasznahorkai allows himself to take pleasure in appreciating the past rather than decrying it's loss. . . . Less of a travelogue than a personal document for the writer, a critical artistic step that has taken him to a more sublime era of his career."
— Frieze
"In Destruction and Sorrow beneath the Heavens, Asia is once again at the center of Krasznahorkai's
attention, but this time he sends his protagonist Stein to China to discover if and how the country's classical culture lives on in the twenty-first century. . . . Krasznahorkai skillfully balances Stein's melodramatic quest for the remnants of metaphysical meaning with an ironic mode that exposes this endeavor while also harboring a certain degree of sympathy for it."
— Slavic and East European Journal
Seagull Books, 9780857423115, 320pp.
Publication Date: February 15, 2016
About the Author
László Krasznahorkai is a celebrated Hungarian novelist and winner of the 2015 Man Booker International Prize. His works include Satantango and Seibo There Below.
or
Not Currently Available for Direct Purchase