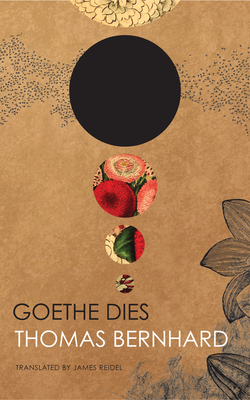 Goethe Dies (The German List) (Hardcover)
Seagull Books, 9780857423276, 112pp.
Publication Date: April 15, 2016
Other Editions of This Title:
Paperback (11/15/2019)
* Individual store prices may vary.
Description
This collection of four stories by the writer George Steiner called "one of the masters of European fiction" is, as longtime fans of Thomas Bernhard would expect, bleakly comic and inspiringly rancorous. The subject of his stories vary: in one, Goethe summons Wittgenstein to discuss the Tractatus Logico-Philosophicus; "Montaigne: A Story (in 22 Installments)" tells of a young man sealing himself in a tower to read; "Reunion," meanwhile, satirizes that very impulse to escape; and the final story rounds out the collection by making Bernhard himself a victim, persecuted by his greatest enemy—his very homeland of Austria. Underpinning all these variously comic, tragic, and bitingly satirical excursions is Bernhard's abiding interest in, and deep knowledge of, the philosophy of doubt.

Bernhard's work can seem off-putting on first acquaintance, as he suffers no fools and offers no hand to assist the unwary reader. But those who make the effort to engage with Bernhard on his own uncompromising terms will discover a writer with powerful comic gifts, penetrating insight into the failings and delusions of modern life, and an unstinting desire to tell the whole, unvarnished, unwelcome truth. Start here, readers; the rewards are great.
About the Author
James Reidel is a poet, translator, and biographer. In addition to collections of his own poems, he has published translations of works by Georg Trakl, Franz Werfel, Robert Walser, Thomas Bernhard, and others. A fellow of the James Merrill House, he wrote Manon's World after nearly a decade of research.
 
Praise For Goethe Dies (The German List)…
"In Goethe Dies, this theme is carried straight to center stage as this quartet of works plays make-believe as a primer for Bernhard's cache of philosophical ideas. Interpolating four stories that'll lock together thematically, James Reidel's translation calls in that sense of the question and answer over one hundred and twelve pages – each question is phrased as a statement of intent, each answer making a mockery of its question. The four stories mark out an arc."
— 3 AM Magazine
"A collection of four stories as bleak and biting as any of Bernhard's best. In each, the Austrian master summons Wittgenstein and Montaigne, tracing his abiding engagement with the philosophy of doubt. Elegantly translated by Reidl, translator of Franz Werfel and Georg Trakl, this slim and elegant volume offers a perfect introduction to Bernhard's uncompromising indictments of the delusions of modern life."
— TANK Magazine
"The traditional short story, however, comes with certain structural demands — plot, economy, narrative tension, an epiphany — that seem incompatible with Bernhard's torrents of vituperation. And yet he did write short stories, or at least short prose pieces, four of which have been collected in Goethe Dies. . . . What Bernhard serves up is very funny, but not at all in the way you imagined. Goethe is as compulsive and solipsistic as every other Bernhard hero and he spends the entire story obsessing over his place in German literature and Wittgenstein's superiority."
— Los Angeles Review of Books
"The four short fictions collected here show Bernhard at his best: brutal, bleak and unyielding. A true miserablist, Bernhard refuses to wrap the world in beautifying lies. But reading him is nonetheless a delight, because through the musicality and manic loquacity of his prose, he turns apathy into revolt, misery into exuberance."
— Burley Fisher Books
"The stories in Goethe Dies will satisfy our current craving for introductions to otherwise longwinded writers that are brief, characteristic, and to the point."
— Hudson Review
"Written in 1982 forthe literary supplement of Die Zeit on the 150th anniversary of the death of the most famous German writer of them all, 'Goethe Dies' is the title story in a clutch of four newly translated pieces. . . . An attractively produced little book."
— Times Literary Supplement
or
Not Currently Available for Direct Purchase