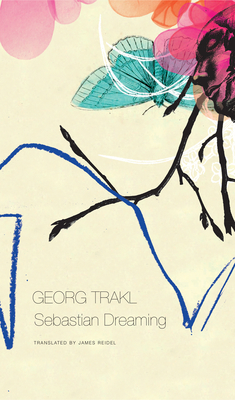 Sebastian Dreaming (The German List) (Hardcover)
Seagull Books, 9780857423313, 72pp.
Publication Date: April 15, 2016
* Individual store prices may vary.
Description
The second book in Seagull's ambitious series of Georg Trakl's works, Sebastian Dreaming was the second, and final, collection prepared for publication by Trakl himself. Published after his death, it was perhaps even tied to it: forced into a military hospital by the psychological trauma of his World War I experiences, the Austrian poet requested that his publisher send him proofs of the book. He waited a week, and then overdosed on cocaine.

A century later, the book appears for the first time in English. While a number of its poems have been included in other collections, translator James Reidel argues that this particular book deserves to stand on its own and be read as one piece, as Trakl intended. Only by doing this can we begin to see Trakl in his proper time and place, as an early modern poet whose words nonetheless continue to exert a powerful hold on us while we make our way through a new, uncharted century.
About the Author
Georg Trakl (1887–1914) was an Austrian-German expressionist poet.
James Reidel is a poet, biographer and translator who has also translated the works by Thomas Bernhard, Georg Trakl, and Franz Werfel.
Praise For Sebastian Dreaming (The German List)…
"As with Poems, the reader is invited to spend time with the work as a whole, to engage with Trakl's fractured, dream-like vision. . . . The poems in this book are charged, if possible, with a more sombre atmosphere than his earlier collection. The sadness comes through clearly and lingers. The recurring themes are visited from varying angles and directions. One can sense the poet trying to focus his vision while over it all hangs the eerie premonition of death that will soon be freed from the pages and realized by the increasingly discouraged and depressed writer."
"Sebastian Dreaming is a dark and enveloping book filled with familiar expressionist energies and barraging pastoral haunts. The text is a mere ninety-two pages long, entirely English, entirely exquisite and damning, both still and swirling: a presence of right and wrong, good and evil, complacent and anxious from start to finish. . . . Slowly ascending and descending through the book ultimately results in a challenge worth taking for the breathtaking moments of beauty and collapse that fill a world of dreams and nightmares to be valued equally."
"Sebastian Dreaming is a book of longing and nostalgia. Here we are today, nostalgic as a society for conflict, because we have forgotten the despair it works over those who bear witness. Young Georg Trakl and his poem-dreams are necessary reminders that this nostalgia—maybe all nostalgia—is misplaced, sometimes tragically so."