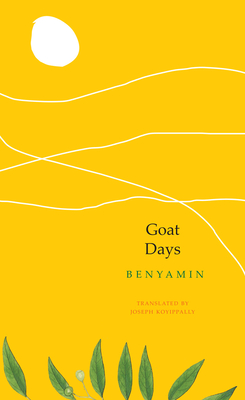 Goat Days (Hardcover)
Seagull Books, 9780857423955, 256pp.
Publication Date: November 15, 2016
* Individual store prices may vary.
Description
In the southern Indian state of Kerala, Najeeb's dearest wish is to work in a Persian Gulf country and earn enough money to send some back home. One day, he finally achieves this dream, only to be propelled by a series of incidents—grim and absurd—into a slave-like existence, herding goats in the middle of the Saudi desert. Memories of his loving family and of the lush, verdant landscape of his village haunt Najeeb, whose only solace is the companionship of goats. In the end, the lonely young man is forced to contrive a hazardous scheme to escape his desert prison.

An instant bestseller in India, Goat Days is available for the first time in English, translated by Joseph Koyippally. Benyamin is a brilliant new talent of Malayalam literature and his wry and tender telling transforms the strange and bitter comedy of Najeeb's life in the desert into a universal tale of loneliness and alienation.
About the Author
Benyamin is an Indian writer and novelist who lives in Bahrain.
Joseph Koyippally is associate professor in comparative literature at the Central University of Kerala, India.
Praise For Goat Days…
"Very seldom in life does a book like Goat Days come along and ruin you for other books. It becomes like that mythic true love you once felt for someone when you were still innocent—but now that you have lived through it, you no longer are that innocent person. . . . The same feeling courses through you after you read books like Hemingway's The Old Man and the Sea, Bach's Jonathan Livingston Seagull, and Orwell's Animal Farm. Perfectly pitched books, with the language kept out of the way of storytelling."
— Dawn
"An unusual worker's-tale from the Gulf States where, instead of (technological) modernity, building and consumer frenzies, and oil-related activity one is confronted almost only with the most desolate of rural locales, Goat Days is an interesting slice of Saudi life—but one that also reaches far beyond its specifics, much of the novel's strength coming from how universal the tale is."
— Complete Review