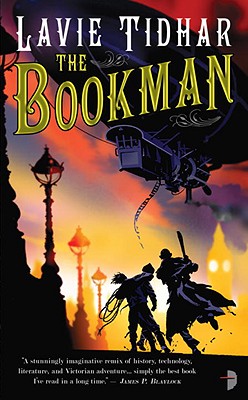 Bookman (Mass Market Paperback)
Angry Robot, 9780857660343, 416pp.
Publication Date: September 28, 2010
Other Editions of This Title:
Paperback (6/7/2016)
MP3 CD (7/26/2016)
* Individual store prices may vary.
Description
This edition of The Bookman is now out of print. The ebook (ISBN: 978-0-85766-035-0) and the omnibus edition The Bookman Histories (978-0-85766-299-6) are still available.

LATE EXTRA!
BOMB OUTRAGE IN LONDON!

A masked terrorist has brought London to its knees -- there are bombs inside books, and nobody knows which ones. On the day of the launch of the first expedition to Mars, by giant cannon, he outdoes himself with an audacious attack.

For young poet Orphan, trapped in the screaming audience, it seems his destiny is entwined with that of the shadowy terrorist, but how? His quest to uncover the truth takes him from the hidden catacombs of London on the brink of revolution, through pirate-infested seas, to the mysterious island that may hold the secret to the origin not only of the shadowy Bookman, but of Orphan himself...

Like a steam-powered take on V for Vendetta, rich with satire and slashed through with automatons, giant lizards, pirates, airships and wild adventure. The Bookman is the first of a series.

File Under: Steampunk [ Alternate History! | Reptilian Royalty! | Diabolical Anarchists! | Extraordinary Adventure! ]
About the Author
Israeli-born writer Lavie Tidhar has been called an "emerging master" by "Locus" magazine, and has quickly established a name for himself as a short fiction writer of some note. He has traveled widely, living variously in South Africa, the UK, Asia and the remote island-nation of Vanuatu in the South Pacific, and his work exhibits a strong sense of place and an engagement with the literary Other in all its forms.

Lavie's novella "An Occupation of Angels" was published in 2005, a Cold War fantasy thriller described by Michael Marshall Smith as "stunningly imaginative" and "the most compelling thing I have read in a long time." In linked-story collection "HebrewPunk" (2007), Tidhar set out to re-imagine traditional fantasy tropes with a distinctly Jewish slant and rich historical settings, including a tale of the little-known Zionist expedition to British East Africa in search of a possible Jewish homeland in "Uganda," effortlessly mixing fact and fiction. The collection was described by Adam Roberts as containing "intensified supernatural action-surrealism" full of "conceptual surprise" and "saturated with a sense of exotic roundedness, an eerie solidity and reality." The author lives in Israel.
Praise For Bookman…
"Readers will enjoy watching Tidhar's imagination throwing off sparks like a Roman candle." - Publishers Weekly

"Tidhar's book gives readers airships, pirates, automatons, cannons to launch people to Mars, and giant lizards; in short, everything but the kitchen sink... Tidhar ushers readers along from one situation to the next with a deft touch." - John Klima, Library Journal

"The Bookman pokes at the fat and waddled body of steampunk with its walking cane and leaves it on the roadside with its fresh take on Victorian London without loosing any steam on its way." - Loudmouth Man

"The Bookman is a delight, crammed with gorgeous period detail, seat-of-the-pants adventure and fabulous set-pieces." - The Guardian

"This is a steampunk gem... Bring on a sequel, Tidhar! I'm craving to know what happens after the ending!" - SFF World

"An emerging master" - LOCUS Magazine

Praise for Lavie Tidhar's Previous Works:

"Tidhar beautifully evokes the power of technology " - The Fix (reviewing "The Dying World" from Clarkesworld Magazine)

"...richly detailed characters in a well paced and well thought out story" - Tangent (reviewing "The Pattern Makers of Zanzibar" from Murky Depths)

"Tidhar's story reads like a drug-infused John Le Carre novel, if Le Carre wrote science fiction and dropped LSD as he pounded on the typewriter... an amazing accomplishment, and highly recommended." - The Fix (reviewing "The Shangri-La Affair" from Strange Horizons) 

"It's stomach churning and very sweet at the same time, bizarreness and beauty like most of Tidhar's stories." - The Fix (reviewing "The Butcher and The Flykeeper - A Christmas Love Story" from Murky Depths)

"The strength of this work is the setting. It is incredibly inventive and fun... a wonderful story, especially for those who enjoy the more surreal edges of speculative fiction." - Tangent (reviewing "High Noon in Clown Town" from Postscripts)

"Tidhar's story is classic noir, but with its tongue firmly in its cheek from beginning to end. A very enjoyable read." - The Fix (reviewing "Hard Rain at the Fortean Cafe" from Aeon)

"This is one of those books which you can't put down and yet you don't want to reach the end because then it will be all over ... It's a book which makes you resent all those little things which get in the way; eating, sleeping, children, work are all annoyances and must be kept to a minimum until you get to the end." - SF Book Reviews
or
Not Currently Available for Direct Purchase