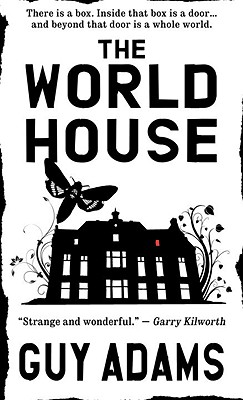 The World House (Paperback)
Angry Robot, 9780857660374, 416pp.
Publication Date: January 25, 2011
* Individual store prices may vary.
Description
Combining the puzzle box of Hellraiser with the explorartion of Tad Williams' Otherland series, this is  the perfect blend of fantasy and adventure, an exceptional modern fantasy debut.

THERE IS A BOX. INSIDE THAT BOX IS A DOOR. AND BEYOND THAT DOOR IS A WHOLE WORLD.
 
In some rooms, forests grow. In others, animals and objects come to life. Elsewhere, secrets and treasures wait for the brave and foolhardy.
And at the very top of the house, a prisoner sits behind a locked door waiting for a key to turn. The day that happens, the world will end...

File Under: Modern Fantasy [Worlds within Worlds | Prison Break | Exploring the Unknown | Dark Powers]
About the Author
Guy Adams trained and worked as an actor for twelve years before becoming a full-time writer. If nothing else this proves he has no concept of a sensible career. He mugged someone on a prime-time UK soap, performed a dance routine as Hitler and spent eighteen months touring his own comedy material around clubs and theatres.

He is the author of the best-selling Rules of Modern Policing: 1973 Edition, a spoof police manual 'written by' DCI Gene Hunt of Life On Mars. Published by Transworld, it has sold over 120,000 copies. Guy has also written a two-volume series companion to the show published by Simon & Schuster; a Torchwood novel, The House That Jack Built (BBC Books); and The Case Notes of Sherlock Holmes, a fictional facsimile of a scrapbook kept by Doctor John Watson. Carlton Books published it in 2009 in association with the Estate of Sir Arthur Conan Doyle, to celebrate the 150th anniversary of the writer's birth.
Praise For The World House…
"This is the kind of book that 'Best of Lists' were made for. Nine and Three Quarters out of Ten" - Graeme's Fantasy Book Review

"A fearless grand adventure of escalating escapades and escapes so hair-raising that Adams' deranged imagination is barely able to contain them all. I knew we were in trouble as soon as the ostrich appeared. It's a fearless, hurtling hell of a debut." - Christopher Fowler

"If you enjoy strange and bizarre tales and especially if you love Neil Gaiman's work and wonder what his tales would be like on a bad trip, get yourself a copy of The World House" - DailySteampunk.com

"Guy Adams is either barking mad or a genius, I haven't decided. His truly fantastic debut is like being caught in a theme park with a killer clown - fun, adventure, the odd cream pie - and a sharp knife when you're not looking." - Mark Chadbourn

"This is an unconventional book that strays far into the realm of fantasy and leaves readers without a compass for a while ... This bodes well for the next instalment of the series." - Warpcore SF
or
Not Currently Available for Direct Purchase