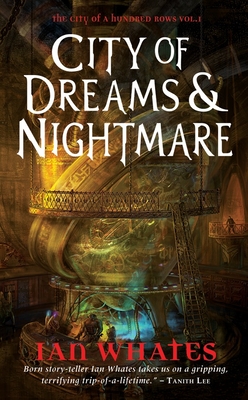 City of Dreams & Nightmare (Mass Market Paperbound)
Angry Robot, 9780857660497, 427pp.
Publication Date: October 26, 2010
* Individual store prices may vary.
or
Not Currently Available for Direct Purchase
Description
THEY CALL IT "THE CITY OF A HUNDRED ROWS."

City of Dreams & Nightmare is the first in a series of novels set in one of the most extraordinary fantasy settings since Gormenghast - the ancient vertical city of Thaiburley. From its towering palatial heights to the dregs who dwell in The City Below, this is a vast, multi-tiered metropolis, and demons are said to dwell in the Upper Heights...
Having witnessed a murder in a part of the city he should never have been in, street thief Tom has to run for his life. Down through the vast city he is pursued by sky-borne assassins, sinister Kite Guards, and agents of a darker force intent on destabilising the whole city. Accused of the crime, he must use all of his knowledge of this ancient city to flee a certain death; his only ally is Kat, a renegade like him, but she has secrets of her own...
File Under: Fantasy Towering City - Ancient Secrets - Murder Most Foul - Kite Guard ]
About the Author
Ian Whates lives in a comfortable home in an idyllic Cambridgeshire village, which he shares with his partner Helen and their pets - Honey the golden cocker spaniel, Calvin the tailless black cat and Inky the goldfish (sadly, Binky died a few years ago). Ian's love of SF began while he was still at school, manifesting itself when he produced an SF murder mystery as homework after being set the essay title "The Language of Shakespeare," much to the bemusement of his English teacher. His first published stories appeared in the late 1980s, but it was not until the early 2000s that he began to pursue writing with any seriousness. In 2006 Ian launched independent publisher NewCon Press, quite by accident. That same year he also resumed submitting short stories, selling some 25 to various venues by the time May 2008 arrived, including two to the science journal Nature. Another story, "The Gift of Joy," was shortlisted for the BSFA Awards in 2008. Ian is currently the chairman of the British Science Fiction Association (BSFA), and edits Matrix, the online news and media reviews magazine. The author lives in Cambridgeshire, UK.
Praise For City of Dreams & Nightmare…
"Adventures in a nightmare citadel - a story that hits the ground running and doesn't let up." - Liz Williams

"Born story-teller Ian Whates takes us on a gripping, terrifying trip-of-a-lifetime, through the heights and depths of the exotically grim city of Thaiburley, in this excellent fantasy thriller." - Tanith Lee

"[It] grabs you pretty much from the first page... Highly recommended." - Fantasy Book Critic

"City of Dreams & Nightmare is a brilliantly executed novel, perfectly paced, beautifully described and a true joy to read." - ScienceFictionandFantasy.co.uk

"I have had The City of Dreams and Nightmare on my TBR pile since the date of release and now wish I had read it sooner, for I denied myself the pleasure of a thoroughly good book!" - Temple Library Reviews 

Praise for Chris Roberson:

"...satisfying, well observed and entertaining." - The Guardian (reviewing "The Gift of Joy")

"As a collection, 'The Gift Of Joy' is certainly worth taking the time to enjoy." - SF Crowsnest, (reviewing "The Gift of Joy")
Advertisement