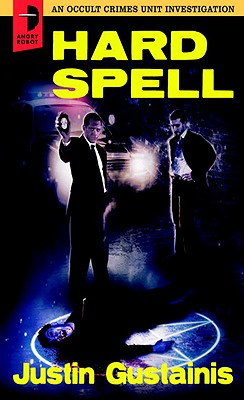 Hard Spell (Occult Crimes Unit Investigati #1) (Mass Market)
Angry Robot, 9780857661159, 400pp.
Publication Date: July 26, 2011
* Individual store prices may vary.
Description
Stan Markowski is a Detective Sergeant on the Scranton PD's Supernatural Crimes Investigation Unit.

Like the rest of America, Scranton's got an uneasy 'live and let unlive' relationship with the supernatural. But when a vamp puts the bite on an unwilling victim, or some witch casts the wrong kind of spell, that's when they call Markowski. He carries a badge. Also, a crucifix, some wooden stakes, a big vial of holy water, and a 9mm Beretta loaded with silver bullets.

File Under: Urban Fantasy [ Dial V For Vampire | Forbidden Spells | Bite Club | Scranton By Night ]
About the Author
Justin Gustainis was born in Northeast Pennsylvania in 1951. He attended college at the University of Scranton, a Jesuit university that figures prominently in several of his writings.

After earning both Bachelor's and Master's degrees, he was commissioned a Lieutenant in the U. S. Army.
Following military service, he held a variety of jobs, including speechwriter and professional bodyguard, before earning a Ph.D. at Bowling Green State University in Ohio.

Mr. Gustainis currently lives in Plattsburgh, New York. He is a Professor of Communication at Plattsburgh State University, where he earned the SUNY Chancellor's Award for Excellence in Teaching in 2002. The author lives in Plattsburgh, New York.
Praise For Hard Spell (Occult Crimes Unit Investigati #1)…
"A cool mix of cop show and creature feature. Gustainis had me at 'meth-addicted goblins'." - Marcus Pelegrimas, author of the Skinners series

"A magical mystery tour of a murder case rife with supernatural suspects. Sit down for an enchanted evening of otherworldly entertainment!" - Laura Resnick, author of Unsympathetic Magic & Vamparazzi

"Hard Spell deals with hardened professionals looking for supernatural things hiding under rocks, and then dragging them out and giving them a good kicking. The cops act like real cops, the vampires act like real vampires, and the monsters aren't messing about. The plot twists and turns like a twisty turny thing, and moves like a weasel on speed. The real things feel real, and the supernatural things feel like they might be. The prose is a joy to read, and the whole thing was more fun than is probably legal." - Simon R Green

"Punchy dialogue, a fun alternate history, explosive action, and a hero whose monsters haunt him even beyond the job… Gustainis has given us a fantastic supernatural cop story that just dares you to put it down!" - Chris Marie Green, author of the Vampire Babylon and Bloodlands books

"I enjoyed every page of Hard Spell. If Sam Spade and Jack Fleming were somehow melted together, you'd get Stan Markowski. I can't wait to see what Gustainis does next." - Lilith Saintcrow, author of Night Shift and Working for the Devil

"A winning mix of urban fantasy and hard-boiled detective fiction." - Jennifer Estep, author of the Elemental Assassin series

"If you're looking for an author who does gritty cop thriller blended with film noir accompanied by a good helping of Urban Fantasy then you really can't do better than Justin Gustainis." -Falcata Times

"I was hooked on the very first page." -Lesa's Book Critiques

"Gustainis has had plenty of practice with his art, and here he shows off his exemplar writing skills in a truly entertaining novel." -Theresa Derwin, www.terror-tree.co.uk

"Hard-hitting, gritty detective novel meets the paranormal in a witty and entertaining read." -www.fluidityoftime.blogspot.com

"Hard Spell is hugely entertaining, enjoyable and just downright awesome." -www.walkerofworlds.com

"Hard Spell is a very good read, one I recommend to fans of Urban Fantasy, paranormal, or even cop dramas." - www.booksavvybabe.com

"This is definitely a book I will read over and over again!" - The Bibliophilic Book Blog

"Genre mash-ups seem to be all the rage these days, and Justin Gustainis' Hard Spell is a perfect example of how to do them right." - Kate Sherrod, www.kateofmind.blogspot.com

"...non-stop cop drama with a nice dose of paranormal." - Sara's Urban Fantasy Blog

"This is a really fun read, and is a great start to a new urban fantasy series..." - Suzanne Johnson, author of the upcoming Royal Street

"Hard Spell is a good bit of paranormal fiction that is more crime novel than paranormal one. The two elements are mixed well together, and I would certainly enjoy reading another mystery of the Occult Crimes unit in the future." -John Ottinger, www.graspingforthewind.com

"Justin Gustainis has given us one of the best supernatural cop stories I've ever read." -www.mysterysuspence.blogspot.com

"Full of suspense, drama, and magic, Gustainis has created another fine fantasy series with interesting characters and riveting mystery. With fast-paced adventure and plenty of twists, the novel was impossible to put down. This new series debut is a must-read for urban fantasy fans." -www.scifichick.com

"Much to my surprise, this was a story that worked well as both an urban fantasy and as a police procedural. Take away the supernatural elements, and there is still a good detective story here, but it's the mix of the two that make this such a great read." -www.bibrary.blogspot.com

"Gustainis writes with the kind of economy that you might expect in the more standard brand of hard-boiled tale, but he also has a knack for invoking the eerie menace of the supernatural – without going all florid and purple prose on the reader. He skillfully introduces the history of his world's supernatural elements and brings together his cast of characters in a way that would make Dashiell Hammett or Robert B. Parker proud. His villain's plan is audacious and well thought out." -Sheldon A. Wiebe, Eclipse Magazine
or
Not Currently Available for Direct Purchase