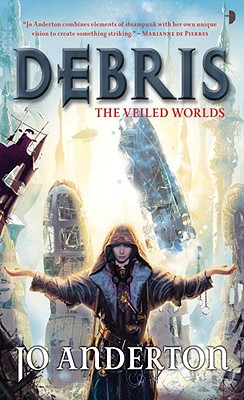 Debris (The Veiled Worlds #1) (Paperback)
Angry Robot, 9780857661548, 464pp.
Publication Date: September 27, 2011
Other Editions of This Title:
MP3 CD (10/11/2016)
Compact Disc (9/7/2015)
Compact Disc (11/8/2011)
Paperback (10/1/2011)
MP3 CD (11/8/2011)
MP3 CD (11/8/2011)
Compact Disc (11/8/2011)
* Individual store prices may vary.
Description
Tanyana is among the highest ranking in her far-future society – a skilled pionner, able to use a mixture of ritual and innate talent to manipulate the particles that hold all matter together. But an accident brings her life crashing down around her ears. She is cast down amongst the lowest of the low, little more than a garbage collector. But who did this to her, and for what sinister purpose? Her quest to find out will take her to parts of the city she never knew existed, and open the door to a world she could never have imagined. 

File Under: Science Fiction [ Meets The Eye | Fantastic Journey | Hidden Powers | Life Meaning ]

e-book ISBN: 9780857661555
About the Author
Jo Anderton lives in Sydney, Australia, with her patient husband, faithful dog, one megalomaniac cat and one dumb-as-a-post cat. She'd rather be living on a big block of land in the country, so she can adopt more pets.

By day she is a mild-mannered marketing coordinator for an Australian book distributor. By night, weekends and lunchtimes she writes dark fantasy and horror.

Her short fiction has appeared in Aurealis, Midnight Echo, Kaleidotrope, Andromeda Spaceways Inflight Magazine, and been reprinted in Australian Dark Fantasy and Horror Vol 3.

She was shortlisted for the 2009 Aurealis Award for best young adult short story. The author lives in Sydney, Australia.
Praise For Debris (The Veiled Worlds #1)…
A Library Journal Best of 2011 Sci Fi & Fantasy Pick!

Chosen for the Locus Best First Novel of 2011 list

"Refreshingly original... an accomplished debut." -- The Guardian

"Impressively combines far-future world-building, conspiracies, and a redemption quest... [Anderton] keeps it interesting with Tanyana's strong, proud narrative voice and the complex culture built up around the pions and debris." -- Publishers Weekly

"Anderton demonstrates a mastery of storytelling and world building in this series opener... This accomplished debut novel should enjoy a wide readership." -- Library Journal, Debut of the Month October 2011

"A captivating story set in a brilliantly-conceived world." -- Trudi Canavan, bestselling author of the Black Magician Trilogy

"This is what modern fantasy looks like. Debris is a strong debut novel from a promising new writer, featuring a tough, professional heroine, a clever magic system and a complex, beautifully realised city. I couldn't put it down." -- Tansy Rayner Roberts, award winning author of The Creature Court Trilogy, and Siren Beat

"Jo Anderton combines elements of steampunk with her own unique vision to create something striking. Debris is a first novel NOT to be missed." -- Marianne de Pierres, award winning author of the Parrish Plessis and Sentients of Orion series

"Anderton's debut builds a marvelous world, shakes it to the core with adventure and romance, then wraps the whole thing in one hell of a mystery.  I can't wait for the rest!" -- Ian Tregillis, author of Bitter Seeds
 
"Anderton has a truly original voice, and Debris rings wildly with this. It's full of magic unimagined by anyone else, and beautifully wrought architecture, familiar yet odd, like a place you visit in a recurring dream. The rise and fall of Tanyana, a gifted, frustrated artist is both painful and transfixing to read." -- Kaaron Warren, award winning author of Slights

"Debris is a strong, exciting debut that took me by surprise with its unique setting, interesting main character, and powerful "fight your way back to the top" narrative. If you enjoy genre-bending fiction with a dark edge, definitely give Debris a try." -- www.tor.com

"Ms. Anderton creates a rich and intriguing world with Debris ... weaving science and magic, politics and caste, as well as a unique mythology that is believably real."  -- Carma Spence, NY Journal of Book Reviews

"Jo Anderton takes centre stage with style. An original novel with a fantastic cover art that is unmissable." -- The Founding Fields

"Debris is a fast read, and very well put together. I was immersed in its world at every stage, and fascinated by its characters ... Jo Anderton has written a novel she deserves to take pride in." -- Ros Jackson, Warpcore SF
or
Not Currently Available for Direct Purchase