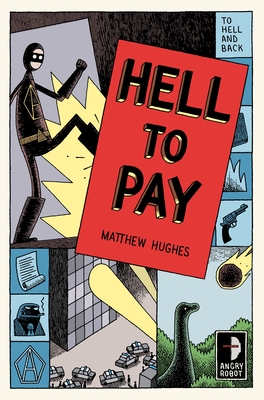 Hell to Pay (To Hell and Back #3)
Mass Market

* Individual store prices may vary.
Description
Meet Chesney Arnstruther. Once a mild-mannered insurance actuary, now a full-time crime-fighting superhero, it's all he can do to kick bad-guy ass while at the same time holding down a steady relationship with the gorgeous Melda. Something is going on.


Meet Xaphan, wise-cracking demon and the source of (almost) all of Chesney's powers. He's been asked by his infernal master to give Chesney whatever he needs... but surely stopping bad guys is not in Hell's plan? Something is definitely going on.


Meet Arthur Wrigley, a modest yet charming older gentleman whose nasty little hobby is fleecing innocent widows. Meet Simon Magus, ancient mystic and magician from Biblical times now very much enamoured of Vegas, baby. And pray you never meet the Chikkichikk, a proud and ancient race of, well, warrior dinosaurs, from the universe that God made then rejected before He started monkeying around with this one. Whatever the hell is going on, this is definitely the third book in the wondrous To Hell & Back series. 


FILE UNDER: Fantasy [ The Better Book | Talk the Dinosaur | Scam Busters | Bring Me Barabbas! ]
Angry Robot, 9780857661630, 336pp.
Publication Date: February 26, 2013
About the Author
Matt Hughes was born sixty years ago in Liverpool, England, but his family moved to Canada when he was five. He' has made my living as a writer all of his adult life, first as a journalist, then as a staff speechwriter to the Canadian Ministers of Justice and Environment, and - from 1979 until a few years back - as a freelance corporate and political speechwriter in British Columbia. He is a former director of the Federation of British Columbia Writers and he used to belong to Mensa Canada, but these days he's conserving his energies to write fiction. The author lives in Ireland. The author lives in Ireland.
or
Not Currently Available for Direct Purchase