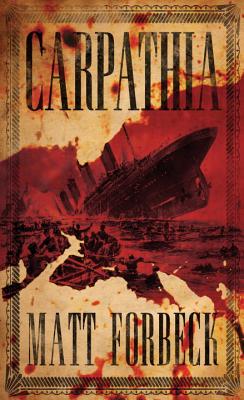 Carpathia (Paperback)
Angry Robot, 9780857662026, 331pp.
Publication Date: February 28, 2012
* Individual store prices may vary.
or
Not Currently Available for Direct Purchase
Description
It's Titanic meets 30 Days of Night.

When the survivors of the Titanic are picked up by the passenger steamship Carpathia, they thought their problems were over.

But something's sleeping in the darkest recesses of the ship. Something old. Something hungry.

File Under: Fantasy [ Bump In The Night | Unthinkable | Rescue Remedy | 1912 Overture ]

e-book ISBN: 978-0-85766-203-3
About the Author
Matt Forbeck has worked full-time on fiction and games since 1989. Frankly, he is a creative machine, and thus utterly perfect for Angry Robot.

He has written novels, comic books, short stories, non-fiction (including the acclaimed Marvel Encyclopedia), magazine articles and computer game scripts. He has designed collectible card games, roleplaying games, miniatures and board games. His work has been published in at least a dozen different languages.

He lives in Beloit, Wisconsin, USA, with his wife Ann and their children: Marty, and the quadruplets: Pat, Nick, Ken and Helen. (And there's a whole other story.) The author lives in Beloit, WI.
Praise For Carpathia…
"Carpathia is a dangerous collision of rich historical drama and epic horror. Beautifully written, completely disturbing… and highly recommended." - Jonathan Maberry, New York Times bestselling author of Assassin's Code and Dead of Night

"Carpathia is fast, furious, and great fun."
-Eric Brown, The Guardian

"Forbeck effortlessly blends history and horror, the Titanic and vampires, along with adventure and romance in a fast-paced, chilling novel that moves like a bat out of hell." - Aaron Rosenberg, author of the bestselling No Small Bills

"Hell comes to the high seas as James Cameron's Titanic crashes full-force into the iceberg that is Bram Stoker's Dracula. Forbeck sinks his fangs into one helluva horror story, robbing from real history to set up an epic showdown between man and vampire (and between vampire and vampire) on the RMS Carpathia." - Chuck Wendig, author of Blackbirds

"No doubt that there will be a slew of Titanic themed books, TV films and documentaries this year but I doubt any will be so much fun as Carpathia... Carpathia is fast-paced, easy reading and whether you pity the vampires or not, there is plenty of dramatic entertainment and exciting action here." - Love Vampires

Priase for Amortals:
"Matt Forbeck takes the plausible and pulls out all the stops in this mind-blowing, high-concept thriller.  It doesn't get any better than this … especially in the near future!" - Jim Lee
Advertisement