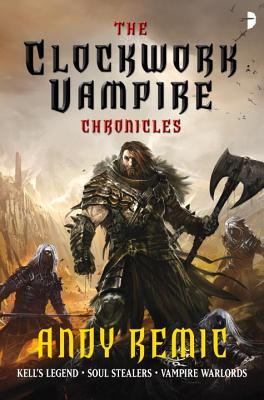 The Clockwork Vampire Chronicles (Paperback)
Angry Robot, 9780857662057, 896pp.
Publication Date: February 28, 2012
* Individual store prices may vary.
or
Not Currently Available for Direct Purchase
Description
This volume contains all three books in the Clockwork Vampire Chronicles: Kell's Legend Soul Stealers Vampire Warlords The land of Falanor is invaded by an albino army, the Army of Iron. A small group set off to warn the king: Kell, ancient hero; his granddaughter, Nienna and her friend, Katrina; and the ex-Sword Champion of King Leanoric, Saark, disgraced after his affair with the Queen. Fighting their way south, betrayal follows battle follows deviation, and they are attacked from all quarters by deadly albino soldiers, monstrous harvesters who drain blood from their victims to feed their masters, and the twisted offspring of deviant vachine, the cankers. As Falanor comes under heavy attack and crushing invasion, only then does Nienna learn the truth about grandfather Kell - that he is anything but a noble hero, anything but a Legend. File Under Epic Fantasy Blood Oil - Alchemy & Infamy - The Axeman Cometh - A Hero's Doom ] e-book ISBN: 978-0-85766-206-4.
About the Author
Andy Remic is a British writer with a love of ancient warfare, mountain climbing and sword fighting. Once a member of the Army of Iron, he has since retired from a savage world of blood-oil magick and gnashing vachines, and works as an underworld smuggler of rare dog-gems in the seedy districts of Falanor. In his spare time, he writes out his fantastical adventures. The author lives in Lincolnshire, England.
Praise For The Clockwork Vampire Chronicles…
Praise for Kell's Legend:

"Kell's Legend' is a roller coaster ride of a book that grabbed me right from the first page and tore off at a rate of knots like I hadn't seen in a long time." - Graeme's Fantasy Book Review

"Kell's Legend is an iconoclastic melange of themes that incorporates devices from various genres-Moorcook/Gemmell heroic fantasy, steampunk, and horror. It is an exciting, brutal novel, soaked in testosterone and paced like a roller coaster. The sex and violence is visceral and the action is non-stop." - Red Rook Review
Advertisement