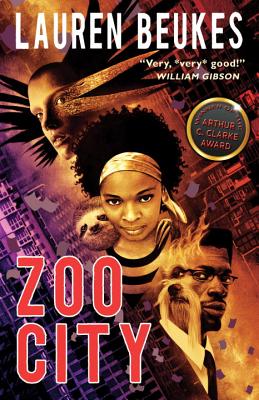 Zoo City (Paperback)
Angry Robot, 9780857662163, 383pp.
Publication Date: July 19, 2011
Other Editions of This Title:
Mass Market Paperback (12/28/2010)
* Individual store prices may vary.
Description
WHERE NO ONE ELSE DARE VENTURE
Zinzi has a Sloth on her back, a dirty online 419 scam habit and a talent for finding lost things. But when her latest client, a little old lady, turns up dead and the cops confiscate her lastpaycheck, she's forced to take on her least favourite kind of job: missing persons
The award-winning novel by the Author of "The Shining Girls"and the highly-acclaimed "Moxyland."
FILE UNDER: Urban Fantasy Gangster Shamen / Symbiotic Familiars / Teen Star Missing / Everything Breaks]
"From the Paperback edition.
Praise For Zoo City…
A Publisher's Weekly Best of 2011 Sci Fi & Fantasy Pick!

"Beukes's energetic noir phantasmagoria, the winner of this year's Arthur C. Clarke Award, crackles with original ideas." --Jeff VanderMeer, New York Times Book Review

"Beukes (Moxyland) delivers a thrill ride that gleefully merges narrative styles and tropes, almost single-handedly pulling the "urban fantasy" subgenre back towards its groundbreaking roots." - Publisher's Weekly, starred review

"Zoo City is a fabulous outing from an extremely promising writer... [it] has so much fabulous wordplay, imaginative settings and scenarios, and such a dark and cynical heart that I was totally riveted by it." - Cory Doctorow, BoingBoing

"In Zoo City we have an unfamiliar land full of familiars, a broken Johannesburg
of the near future peopled with damaged wonders. Proving her debut novel was no fluke, she writes better than I wish I could on my best day. If our words are bullets, Lauren Beukes is a marksman in a world of drunken machine-gunners, firing her ideas and images into us with a sly and deadly accuracy, wasting nothing, never missing. I'll follow her career as long as she's willing to write and I'm able to read." - Bill Willingham, creator of Fables

"Zoo City is a story of mysteries unfolding, and it is a story well told. But it's the world around the story, and the words that guide us through, that make it something more than simply marvellous. With her subtle, intimate descriptions of the roads we walk in this crazy city; with characters so deeply twisty you could lose a giant squid in their nebulous hidey holes, and with turns of phrase that are as likely to conjure up Rudyard Kipling, Brenda Fassie or Credo Mutwa as they are to invoke Japanese anime, Doctor Who or the crack in Johnny Cash's voice as he sings of his greatest loss, this canny authoress has brought real magic to everyday life in Jozi, in what I'm afraid I really am going to end off by describing as an act of unadulterated literature." - Matthew du Plessis, Times Live

"This book is a must read for lovers of South African fiction and urban fantasy alike. It is edgy and pacey and like a rollercoaster ride, it sweeps you up, spins you around, turns you upside down and dumps you out on the other end, heady and breathless and yearning for more." - Exclus1ves

"Lauren Beukes is an awfully smart writer. In Zoo City her characters ooze attitude, their dialogue is snappy, and her vivid imagery is both original and arresting. What's more, with an inspired blend of pop-culture savvy and fantasy (just enough, not too much), her depiction of Johannesburg, magical charms and all, feels eerily real... In fact, it feels as incomplete as real life. It's gritty, it's tangled and it's flawed; nothing is polished, nothing perfect. That's what makes Zoo City so disturbingly, hauntingly, uncompromisingly brilliant." - Jonno Cohen, MiniMonologues

"At times the witty and lyrical prose is sheer magic, the story captivating and the characters exotic, cruel and beautiful while the backdrop of Johannesburg seeths with hidden, lurking dangers around every corner, Zoo City is quite simply captivating." - SciFi & Fantasy Books

"Returning with her second release from Angry Robot, Lauren Beukes stuns with a richly textured venture into a pseudo-fantastical Johannesburg of the future where criminals are magically partnered with animals, and unscrupulous record producers run amok." --SciFiNow

"We all know there is a fine line between genius and madness. So it is with Zoo City ... a story that is remarkable for both its inventiveness and the sharpness of its writing."
- Jason Baki, Kamvision

"A contrast of fragility and extreme imaginative strength, Beukes's books are going places. She'd better ready herself for one helluva wild ride." - Mandy De Waal, The Daily Maverick

"Beukes has written a book about something deeply important, but she's willing to stand back and let us figure it out for ourselves." - www.pornokitsch.com

"If you don't read Zoo City, you're missing out on one of the best modern books in and outside the fantasy genre." -www.TheRantingDragon.com

"Beukes's future city is as spiky, distinctive and material a place as any cyberpunkopolis, and quit a bit fresher. The narrative is brisk and well turned, but the great achievement here is tonal: atmospheric, smart and memorable work." -www.locusmag.com

"Ms. Beukes' amazing novel takes the genre to exciting new places, is beautifully written and is a bloody good story." -www.pornokitsch.com, on winning the Red Tentacle Award

"From grimy slums to gang warfare to supernatural horrors, Zoo City is a book of hard edges and nasty surprises. It's also livened up by stabs of sharp, black humour, and the action is unrelenting." - Warpcore SF

"Lauren Beukes brings to Zoo City the observant, cynical eye for the intersection of media, business, and pop culture that animated her debut, Moxyland, and pairs it with a funny, colloquial, and casually poetic first-person narrator and thriller pacing to take urban fantasy to the next level." -www.ideomancer.com


"Zoo City is pure originality ... a book that had me reading it revelling in Beukes' magical way with words." - SF Signal

"Go and read Zoo City and Moxyland by Lauren Beukes – someone took cyberpunk from the toy box, dusted it up and spanked it to shape for the new millennium." -Janos Honkonen, Vornasblogi

"The novel's greatest triumph is undoubtedly its richly evocative world, at once hostile and compelling, deadly and seductive. It sucks you in and plants your feet firmly on its grimy city pavements, and despite the danger that awaits you around every corner, you can't help but run to get there, to find the next macabre treasure." -Vianne Venter, Something Wicked

"Beukes does the thing that everyone is always saying writers need to do: Show, don't tell."
-Brain vs. Book


From the Paperback edition.
or
Not Currently Available for Direct Purchase