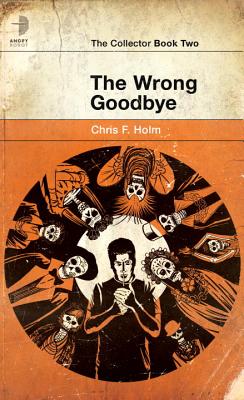 The Wrong Goodbye (Mass Market Paperbound)
Angry Robot, 9780857662217, 400pp.
Publication Date: September 25, 2012
Other Editions of This Title:
MP3 CD (9/8/2015)
Compact Disc (4/7/2015)
Pre-Recorded Audio Player (9/25/2012)
MP3 CD (9/25/2012)
MP3 CD (9/25/2012)
Compact Disc (9/25/2012)
Compact Disc (9/25/2012)
* Individual store prices may vary.
Description
Meet Sam Thornton, Collector of Souls.
Because of his efforts to avert the Apocalypse, Sam Thornton has been given a second chance - provided he can stick to the straight and narrow.
Which sounds all well and good, but when the soul Sam's sent to collect goes missing, Sam finds himself off the straight-and-narrow pretty quick.
File Under: Urban Fantasy Missing - Soul Provider - Call Collect - Demon Child ]
About the Author
Chris Holm was born in Syracuse, New York, the grandson of a cop with a penchant for crime fiction. It was the year of punk rock and Star Wars, two influences that to this day hold more sway over him than perhaps his wife would like. His stories have appeared in a slew of publications, including Ellery Queen's Mystery Magazine, Alfred Hitchcock's Mystery Magazine, Beat to a Pulp, and Thuglit. He has been an Anthony Award nominee, a Derringer Award finalist, and a Spinetingler Award winner. He lives on the coast of Maine with his wife and a noisy, noisy cat. When he's not writing, you can find him on his porch, annoying the neighbours with his guitar."
Praise For The Wrong Goodbye…
"With a candid style that exhibits solid confidence and finesse, Chris Holm pulls readers in and pins us to the edge of our seats"
- New York Journal of Books

"A strong urban fantasy that will cement Holm's reputation in the field."
- Paul Simpson, SciFi Bulletin

"Beyond the humor, Chris Holm's real talent is keeping the plot moving at breakneck pace. He doesn't set a ticking clock, but he effectively drives home the danger of every delay, and builds action sequences that race along. He also knows how to build horrific scenes, using these moments to drive home how dire the outlook is if Sam doesn't resolve things quickly."
- Untitled United

"Holm's established himself with this one. It's smart (the winking references to pop culture alone will make savvy readers grin) and packs a hefty wallop of action as well as setting up several dominoes for the next book."
- Raging Biblioholism

"It's a fun adventure, a cross-country fantastical crime spree that fans of Neil Gaiman's American Gods and the TV show Supernatural will likely enjoy. It hits all the right notes as both a buddy comedy and a horror show."
- Neliza Drew, Criminal Element

"I love Holm's creativity and his willingness to not simply follow the herd of current fiction trends. The Wrong Goodbye is a great novel, filled with adventure and a straightforward storytelling style that makes this book a real treat."
-Kristin, OwlCat Mountain

"I feel like this series is only getting stronger."
-Every Read Thing

"Pacing is brisk (but not overwhelming), the action is intense (but not distracting) and, once again, the flashbacks are well-placed and reveal more of Sam, serving to increase our sympathy for him even further."
-CheffoJeffo
or
Not Currently Available for Direct Purchase