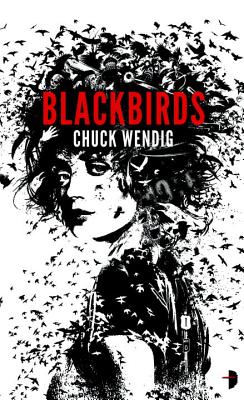 Blackbirds (Mass Market Paperbound)
Angry Robot, 9780857662309, 381pp.
Publication Date: April 24, 2012
Other Editions of This Title:
Paperback (9/15/2015)
Hardcover (9/15/2015)
Compact Disc (3/30/2016)
MP3 CD (9/15/2015)
Paperback (5/1/2012)
MP3 CD (4/24/2012)
Compact Disc (4/24/2012)
* Individual store prices may vary.
Description
Miriam Black knows when you will die.
Still in her early twenties, she's foreseen hundreds of car crashes, heart attacks, strokes, suicides, and slow deaths by cancer. But when Miriam hitches a ride with truck driver Louis Darling and shakes his hand, she sees that in thirty days Louis will be gruesomely murdered while he calls her name.
Miriam has given up trying to save people; that only makes their deaths happen. But Louis will die because he met her, and she will be the next victim. No matter what she does she can't save Louis. But if she wants to stay alive, she'll have to try.
File Under: Urban Fantasy Touch Of Death - The Future Is Written - Free Way - Surviving ]
About the Author
Chuck Wendig is equal parts novelist, screenwriter, and game designer - A.K.A. an all-around "freelance penmonkey." You can probably find him on the side of a highway holding a sign, "Will Write For Booze." He currently lives in the wilds of Pennsyltucky with wife, dog, and infant heir to the Wendig throne. You can find him dispensing dubious writing advice at his blog, terribleminds.com. Chuck was nominated for the 2013 John W. Campbell Award for Best New Writer.
Praise For Blackbirds…
"Wendig's second novel is a splendidly profane slice of urban fantasy – hard, dark and fast. Slick one-liners and laugh-out-loud descriptions pepper the prose, making Blackbirds a black comedy that even the Grim Reaper could smile at."
- The Financial Times

"Vivid and violent... a sassy, hard-boiled thriller with a paranormal slant"
- The Guardian

"Wendig's dark and twisty adventure is filled with misfit characters who defy easy stereotypes... despite fate being hell-bent on keeping her down, Miriam's stubborn struggle to change it makes Blackbirds take flight" - Elyse Dinh-McCrillis, Shelf Awareness

"Visceral and often brutal, this tale vibrates with emotional rawness that helps to paint a bleak, unrelenting picture of life on the edge." - Publishers Weekly

"In addition to a cast of well developed yet mentally unstable characters that enhance a fantastically horrifying plot, Blackbirds possesses a natural progression that doesn't rely on convenience or contrived circumstances to move the story forward. Author Wendig's distinctive, straightforward style is accessible and insistent; and the generous helpings of violence are strangely invigorating. Chuck Wendig has raised the bar of the urban fantasy genre . . ."
- Renee C. Fountain, New York Journal of Books

"Think Six Feet Under co-written by Stephen King and Chuck Palahniuk…" - SFX

"Wendig has taken the American roadside story and turned it into a tale of supernatural terror. This is a treat for those of us who like their horror vampire-free and swear-word heavy." - Starburst

 "Blackbirds is a high energy, whiskey-fuelled ride, that will pull you along for the journey and have you questioning whether we can change destiny. A must-read book by an author that is worth watching." - Fantasy Faction

  "Chuck Wendig has managed to take the best of urban fantasy and crime noir, twist 'em together like barbed wire, and drag you right over the barbs. Blackbirds is gritty and violent, yet never loses sight of the light that might be at the end of the tunnel." - My Bookish Ways

  "A gleefully dark, twisted road trip for everyone who thought Fight Club was too warm and fuzzy. I loved it, and will be seeking professional help as soon as Chuck lets me out of his basement." - James Moran, Dr. Who writer

"Enchanting and drowned in blood, Blackbirds is a meaty piece of fiction, a non-stop mind-job where the first hit hurts and you keep going back for more. It's the kind of gritty, unapologetic story that grips you long after the book's done; dark, intense, utterly without mercy. Chuck Wendig spins one hell of a tale."
- Karina Cooper, author of the Dark Mission series

"Trailer-park tension, horrified hilarity, and sheer terror mixed with deft characterization and razor plotting. I literally could not put it down."
- Lilith Saintcrow, author of Night Shift and Working for the Devil
 
"Blackbirds is a horror story, a traveling story, a story of loss and what it takes to make things right.  It's a story about fate and how sometimes, if we wrestle with it hard enough, maybe we can change it.  Blackbirds is the kind of book that doesn't let go even after you've put it down and nobody else could have made it shine like Chuck Wendig."
- Stephen Blackmoore, author, City of the Lost and Dead Things
 
"Mean, moody and mysterious, Blackbirds is a noir joyride peppered with black humour, wry observation, and visceral action. Fans of Chuck Wendig will not be disappointed."
- Adam Christopher, author of Empire State

"It's a cliché in reviewing to say that you couldn't put a book down, that you ended up reading all night because you couldn't bear to leave the story. In reality there haven't been that many books written – ever – that have that indefinable quality that demands your full attention. Blackbirds is one of the few I've come across in recent years."
- SciFi Bulletin

"Wendig writes hard and fast and this is a slick noirish thriller."
- David Barnett, The Independent (December 9, 2012)

 "insanely good, acrid, burning prose … Wendig is a phenomenal talent, breakthrough of the last year. Absolute must-read."
-Ray, Endless Falls Up 

"This book is and isn't what I expected it to be. I did expect it to be good. But I didn't expect it to be that good. This is book dark, gritty, and the elements of horror aren't so terrifying that you wet yourself, but they are pretty damn scary sometimes."
-Write To Perfect

"I find myself taken with Miriam & her snarky foul-mouthed firebrand hellion devil-may-care badass ways."
-The BiblioSanctum

Blackbirds was named Runner-up for the 2012 THIS IS HORROR Novel of the Year Award 
or
Not Currently Available for Direct Purchase