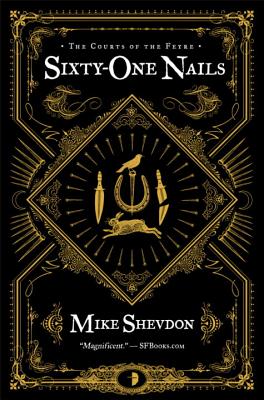 Sixty-One Nails (Mass Market Paperbound)
Angry Robot, 9780857662477, 522pp.
Publication Date: May 29, 2012
* Individual store prices may vary.
or
Not Currently Available for Direct Purchase
Description
THERE IS A SECRET WAR GROWING BENEATH THE STREETS OF LONDON.
A dark magic will be unleashed by the Untainted...Unless a new hero can be found. The smarter, faster brother to Neil Gaiman's "Neverwhere" has arrived.
The immense "Sixty-One Nails" follows Niall Petersen, victimof a suspected heart attack on the London Underground, into the hidden world of the Feyre, an uncanny place of legend that lurks just beyond the surface of everyday life. The Untainted, the darkest of the Seven Courts, have made their play for power, and unless Niall can recreate the ritual of the Sixty-One Nails, their dark dominion will enslave all of the Feyre, and all of humankind too.
File Under: Urban Fantasy Hidden War - Ancient Rituals - Secret History - Gallowfyre ]
E-book ISBN: 978-0-85766-029-9.
About the Author
Mike Shevdon lives in Bedfordshire, England, with his wife and son, where he pursues the various masteries of weapons, technology, and cookery. His love of Fantasy & SF started in the 70s with C S Lewis, Robert Heinlein and Isaac Asimov and continued through Alan Garner, Ursula Le Guin and Barbara Hambly. More recent influences include Mike Carey, Phil Rickman, Neil Gaiman, and Robert Crais, among many others.

He has studied martial arts for many years, mainly aikido and archery. Friends have sometimes remarked that his pastimes always seem to involve something sharp or pointy. The pen should therefore be no surprise, though he's still trying to figure out how to get an edge on a laptop.

Explore the intricate world of Mike Shevdon at his fascinating website (http: //shevdon.com/) or follow him on Twitter (@shevdon). The author lives in Bedfordshire, UK.
Praise For Sixty-One Nails…
"I came away from this read feeling like I'd taken a stroll through Mike Shevdon's imagination. Is this bad? Not at all, because it's a great place to visit and poke around."
- Examiner.com

"Sixty-One Nails is Neverwhere for the next generation. The pacing is spot-on, the characters engaging, and the world fits together beautifully to create a London that ought to be. I stayed up too late finishing it." - C.E. Murphy

"Mike Shevdon strikes sparks from the flinty core of English folklore, as a hero every reader can relate to finds he's part of an incredible and scarily believable parallel realm. If you've been thinking urban fantasy has nothing fresh to offer, think again." - Juliet E. McKenna

"This book is magnificent in every way. Sixty-One Nails is a novel I will remember for a very long time. 5*****" - ScienceFictionandFantasy.co.uk

"I would recommend this book to anyone who wishes for something different in the urban fantasy genre." - Fantasy Book Critic

"...  a charming, magical book, and I am a confirmed Mike Shevdon fan."
- www.mybookishways.com

"Sixty-One Nails is deeply compelling; it will tempt you away from social commitments and sleep."  - www.thecontextuallife.com
Advertisement