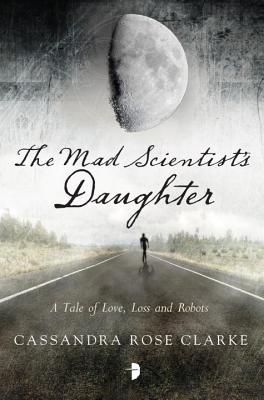 The Mad Scientist's Daughter (Paperback)
Angry Robot, 9780857662651, 391pp.
Publication Date: January 29, 2013
* Individual store prices may vary.
Description
Cat, this is Finn. He's going to be your tutor.
Finn looks and acts human, though he has no desire to be. He was programmed to assist his owners, and performs his duties to perfection. A billion-dollar construct, his primary task now is to tutor Cat. As she grows into a beautiful young woman, Finn is her guardian, her constant companion and more.
But when the government grants rights to the ever-increasing robot population, however, Finn struggles to find his place in the world.
"
File Under" Science Fiction Constant Companion - Finn X - Sentient Rights - Hot Tin Roof ]
About the Author
Cassandra Rose Clarke is a speculative fiction writer and occasional teacher living amongst the beige stucco and overgrown pecan trees of Houston, Texas. She is a graduate of the 2010 Clarion West Writers Workshop and holds a Masters degree in creative writing from the University of Texas at Austin. Her short fiction has appeared in Strange Horizons. The author lives in Houston, TX.
Praise For The Mad Scientist's Daughter…

Nominated for the 2014 Phillip K. Dick Award.

Named a B&N Bloggers' Favorite Book of the Year, 2013.

"Cassandra Rose Clarke has delivered a novel that is brave enough to take on one of the largest issue's confronting all of us today—just what exactly it means to be human in a time when the definition of such seems to alter almost daily in the face of whirlwind technological change. The Mad Scientist's Daughter is a haunting, memorable, and very original love story, told in an alluringly graceful prose."
Peter LaSalle, author of Tell Borges If You See Him: Tales of Contemporary Somnambulism

"one of the most heart-clenching and gut-wrenching love stories I have ever read ... an instant favorite with fantastic re-readability."
-Vicki, Open Book Society

"Fantastic character building and a truly classic love story make The Mad Scientist's Daughter a literary classic for lovers of both genre fiction and classic romance."
-Catherine Russell, Functional Nerds

"With this second book, Clarke has cemented her status as a must-read author. The Mad Scientist's Daughter is really something special."
-A Fantastical Librarian

"The characters are what drives this story, whether it's Cat struggling through life, her mad yet grounded and caring father, the friends and lovers Cat meets throughout her life, or Finn, the android who doesn't want to be human yet seems like the most perfect creation."
– Shades of Sentience

"I urge you to read this book, it will haunt you and stay with you for a long time. It is very hard to believe that this is only the author's second novel – bravo Miss Clarke!"
– Geek Syndicate

If you are looking for hearts, flowers and candle lit dinners you won't find it here but if you are in the mood for a tear inducing, head shaking, heartbreaking, but ultimately uplifting love story, within an unusual setting and with a unique love interest, The Mad Scientist's Daughter is for you.
-Caroline, Big Book Little Book

"The author captures the idea of lonely people circling around each other, coming together briefly and then separating again. I think it's part of what makes this book so melancholy, but it also makes the times the characters do connect extra sweet."
- Tammy Sparks, Books, Bones & Buffy

"Even if you don't consider yourself a science fiction fan READ THIS BOOK. It is gorgeous and thought provoking and fascinating. Even better – try and get someone else to read it at the same time. It's a novel that demands to be talked about."
-More Than Just Magic

"Cat's longing and desire for Finn is a force of nature, and the tragedy, and joy, of Cat and Finn's romance will stay with you long after reading the last page."
-My Bookish Ways

"It's a neat premise and Clark examines the ramifications with the precision of a poet, eschewing the genre's typical preoccupation with science and opting instead for a dramatisation of the love affair. Hard SF aficionados be warned: this is SF for admirers of The Time Traveller's Wife."
-Eric Brown, The Guardian
or
Not Currently Available for Direct Purchase