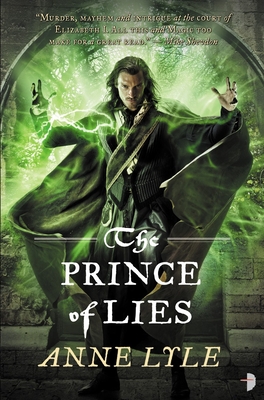 The Prince of Lies (Paperback)
Night's Masque, Volume 3
Angry Robot, 9780857662811, 544pp.
Publication Date: October 29, 2013
* Individual store prices may vary.
Description
Elizabethan spy Mal Catlyn has everything he ever wanted – his twin brother Sandy restored to health, his family estate reclaimed and a son to inherit it – but his work is far from over. The renegade skraylings, the guisers, are still plotting – their leader, Jathekkil, has reincarnated as the young Prince Henry Tudor. But while he is still young, Mal has a slim chance of eliminating his enemies whilst they are at their weakest.

With Sandy's help, Mal learns to harness his own magic in the fight against the guisers, but it may be too late to save England. Schemes set in motion decades ago are at last coming to fruition, and the barrier between the dreamlands and the waking world is wearing thin…

File Under: Fantasy [ Kill The Child | To The Tower! | Servants and Masters | Prison Break ]
About the Author
Anne Lyle is a website developer and debut author from Nottinghamshire, England. She has an active website, attends UK conventions and is a dedicated Twitter user. The author lives in Cambridge, UK.
Praise For The Prince of Lies: Night's Masque, Volume 3…
Author is a nominee for the Sydney J. Bounds Award for Best Newcomer.

"In her terrific debut novel, Anne Lyle conjures up a magical Elizabethan England of seedy glamour, long shadows, pulsating romance and heart-stopping adventure. The Alchemist of Souls is the calling card of a great new talent in the fantasy field."
– Mark Chadbourn, author of The Sword of Albion


"This is as exciting and action-packed as the previous two volumes … I highly recommend this book"
– Fantasy Faction

"The Prince of Lies was a satisfying ending to a trilogy that blew me away. This series had me hooked from the very first page, and it breaks my heart to say goodbye to these characters that have become so amazingly real to me. Lyle has established herself as a strong and powerful historical fantasy writer. The Night's Masque was one of the most enjoyable series I've read so far this year, and it ended on the perfect note."
– Bookworm Blues

"An excellent final act, The Prince of Lies finishes off the trilogy very well indeed, and ending the trilogy in a very satisfying way – Fans of the previous two novels will not be disappointed by what they see here, and once again, Lyle proves herself to be one of the go-to people for good historical fantasy novels with this superb finale."
– Bane of Kings, The Founding Fields

"A satisfying finish to the story"
– Elloise Hopkins, Writing, Fantasy & Real Life

"The prose is still true to the excellent standard I've come to expect and love from Lyle"
– Jet Black Ink

"As the third book in a trilogy goes, this is an excellent one. Lyle has given me a great three volume journey through an excellent world that is just slightly skewed from the one we live in. I can state without a doubt that the ~1,500 pages of reading have been very much worth it, and I will not hesitate to encourage others to start on it."
– Weirdmage's Reviews

For The Alchemist of Souls:

"…gives Shakespeare's London an alternate-history twist … A lively, readable debut."
– David Langford, Telegraph.co.uk

"With an effective mix of espionage, backstage drama, and mystery, Lyle provides compelling drama in an intriguing setting."
– Publisher's Weekly

"Anne Lyle's The Alchemist of Souls teems with intrigue and magic worthy of the Bard himself, all set against the backdrop of Elizabethan London. The attention to historical detail brings the time and place alive and peoples it with characters I could instantly empathize with. An outstanding debut!"
– Lynn Flewelling, author of the Tamir trilogy

For The Merchant of Dreams:

"I loved everything about The Merchant of Dreams: it is exciting, thrilling and Lyle's gorgeous prose drives the story elegantly forwards towards a goal … A fantastic example of historical fantasy going all the way and holding nothing back, The Merchant of Dreams is complex and exciting."
– Leo Elijah Cristea

"The exploration of gender, relationships (both political and personal) and sacrifice continue in a historical fantasy that is as light-hearted and entertaining as it is deep. Perhaps its most admirable quality is Lyle's willingness to explore and represent the minority in a realistic and unashamed manner."
– Elloise Hopkins

"This may be one of the best historical fiction/fantasy novels of 2012. Venice, Pirates, Skraylings, politics and some epic action scenes in sixteenth century Europe make sure that The Merchant of Dreams is a worthy successor to The Alchemist of Souls."
– Bane of Kings, The Founding Fields
or
Not Currently Available for Direct Purchase