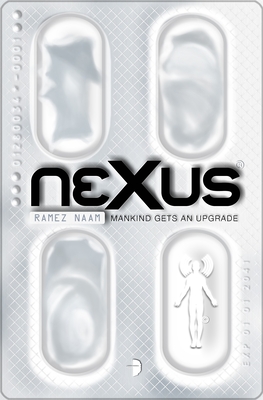 Nexus
Nexus Arc Book 1
Paperback

* Individual store prices may vary.
Other Editions of This Title:
Digital Audiobook (8/5/2013)
Mass Market (3/3/2015)
Compact Disc (2/25/2014)
Compact Disc (12/9/2014)
Description
Winner of the 2014 Prometheus Award

Mankind gets an upgrade

In the near future, the experimental nano-drug Nexus can link humans together, mind to mind. There are some who want to improve it. There are some who want to eradicate it. And there are others who just want to exploit it.

When a young scientist is caught improving Nexus, he's thrust over his head into a world of danger and international espionage – for there is far more at stake than anyone realizes.

From the halls of academe to the halls of power, from the headquarters of an elite US agency in Washington DC to a secret lab beneath a top university in Shanghai, from the underground parties of San Francisco to the illegal biotech markets of Bangkok, from an international neuroscience conference to a remote monastery in the mountains of Thailand – Nexus is a thrill ride through a future on the brink of explosion.

File Under: Science Fiction [Humanity 2.0 | Mind Matters | Hive | This Will Happen]
Praise For Nexus: Nexus Arc Book 1…
"Good. Scary Good."
-Wired

"Provocative... A double-edged vision of the post-human."
-The Wall Street Journal
 
"A lightning bolt of a novel, with a sense of awe missing from a lot of current fiction." -Ars Technica
 
"Starred Review. Naam turns in a stellar performance in his debut SF novel... What matters here is the remarkable scope and narrative power of the story."
-Booklist

"A rich cast of characters...the action scenes are crisp, the glimpses of future tech and culture are mesmerizing."
- Publishers Weekly 

"Naam displays a Michael Crichton-like ability to explain cutting-edge research via the medium of an airport techno-thriller."
–SFX Magazine 

"A superbly plotted high-tension technothriller ... full of delicious, thoughtful moral ambiguity ... a hell of a read." -Cory Doctorow

"Nexus and Crux are a devastating probe into the political consequences of transhumanism; a sharp, chilling look at our likely future." 
– Charles Stross, author of Singularity Sky and Halting State

"A gripping piece of near future speculation... all the grit and pace of the Bourne films." -Alastair Reynolds, author of Revelation Space

"The most brilliant hard SF thriller I've read in years. Reminds me of Michael Crichton at his best." -Brenda Cooper, author of The Creative Fire

"Any old writer can take you on a roller coaster ride, but it takes a wizard like Ramez Naam to take you on the same ride while he builds the roller coaster a few feet in front of your plummeting car... you'll want to read it before everyone's talking about it."
- John Barnes, author of the Timeline Wars and Daybreak series.

"An incredibly imaginative, action-packed intellectual romp! Ramez Naam has turned the notion of human liberty and freedom on its head by forcing the question: Technology permitting, should we be free to radically alter our physiological and mental states?"
- Dani Kollin, Prometheus award winning author of The Unincorporated Man

"The only serious successor to Michael Crichton working in the future history genre today." 
- Scott Harrison, author of Archangel
 
"If you are posthuman or transhuman this is an absolute must-read for you; and even mere mortals will love it." 
- Philip Palmer, author of Version 43 and Hell Ship
 
"Ramez writes excellent action sequences, incorporating his technology well, and the lives at stake are more than just cardboard cutouts. No one in this story is 'as meets the eye'" 
- Timothy C. Ward

 "a fast, fun read which is both emotionally engaging and thought-provoking. You'll be mulling over the implications of Nexus — the book and the drug — long after you put the book down."
-Analee Newitz, io9.com 
Angry Robot, 9780857662934, 464pp.
Publication Date: December 18, 2012
About the Author
Ramez Naam is a professional technologist, and was involved in the development of Microsoft Internet Explorer and Outlook. He holds a seat on the advisory board of the Institute for Accelerating Change, is a member of the World Future Society, a Senior Associate of the Foresight Institute, and a fellow of the Institute for Ethics and Emerging Technologies. 

His non-fiction book More Than Human won the H.G. Wells Award. 

His novels has been nominated for the Kitscie Award for Best Debut, the Prometheus Award, and the Arthur C. Clarke Award. He is a 2014 nominee for the John W. Campbell Award for Best New Writer.