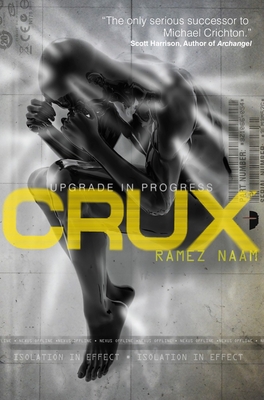 Crux
Nexus Arc Book 2
Paperback

* Individual store prices may vary.
Other Editions of This Title:
Mass Market (4/7/2015)
Compact Disc (8/27/2013)
MP3 CD (9/23/2014)
Compact Disc (9/30/2014)
MP3 CD (8/27/2013)
Compact Disc (8/27/2013)
MP3 CD (8/27/2013)
Description
Finalist for the 2014 Prometheus Award.

Six months have passed since the release of Nexus 5.  The world is a different, more dangerous place. 
 
In the United States, the terrorists – or freedom fighters – of the Post-Human Liberation Front use Nexus to turn men and women into human time bombs aimed at the President and his allies. In Washington DC, a government scientist, secretly addicted to Nexus, uncovers more than he wants to know about the forces behind the assassinations, and finds himself in a maze with no way out.

In Thailand, Samantha Cataranes has found peace and contentment with a group of children born with Nexus in their brains. But when forces threaten to tear her new family apart, Sam will stop at absolutely nothing to protect the ones she holds dear.
 
In Vietnam, Kade and Feng are on the run from bounty hunters seeking the price on Kade's head, from the CIA, and from forces that want to use the back door Kade has built into Nexus 5.  Kade knows he must stop the terrorists misusing Nexus before they ignite a global war between human and posthuman. But to do so, he'll need to stay alive and ahead of his pursuers.
 
And in Shanghai, a posthuman child named Ling Shu will go to dangerous and explosive lengths to free her uploaded mother from the grip of Chinese authorities.
 
The first blows in the war between human and posthuman have been struck.  The world will never be the same.

File Under: Science Fiction [ Stage 2 | Terrorist or Freedom Fighter? | Mind Games | Upgrading… ]
Praise For Crux: Nexus Arc Book 2…
"A blisteringly paced technothriller that dives deeper and even better into the chunky questions raised by Nexus. This is a fabulous book, and it ends in a way that promises at least one more. Count me in."
 - Cory Doctorow, author of Little Brother and Pirate Cinema

"Smart, thoughtful, and hard to drop, this richly nuanced sequel outshines its predecessor with a wide cast of characters and some complicated, uneasy questions about power, responsibility, and the future of humanity."
 - Publishers Weekly

"Crux does what sci-fi is supposed to do: Leave you staring into a future you never thought of. Make you wonder where you would fit. And challenge previous sci-fi scenarios."
 – Tom Shippey, The Wall Street Journal
 
"Potent like Naam's vividly imagined nano-drug Nexus, Crux is a heady cocktail of ideas and page-turning prose. It left my brain buzzing for days afterwards."
 – Hannu Rajaniemi, author of The Quantum Thief and The Fractal Prince
 
"Nexus and Crux are a devastating probe into the political consequences of transhumanism; a sharp, chilling look at our likely future."
 – Charles Stross, author of the Halting State and Laundry Files series
 
"Highly recommended for preparation of the future revolution."
 – Harper Reed, former CTO of Obama for America
 
"A brilliant book, full of mind-blowing tech drawn in highly believable fashion. Naam's action sequences carry a brutal intensity, and every time you think he'll finally let you breathe the stakes rise even higher."
 – Jason M. Hough, New York Times best-selling author of The Darwin Elevator
 
"Crux is an outstanding speculative fiction adventure … in the same league as Michael Crichton and Daniel Suarez. Put it at the top of your summer reading list!"
 – Scientific American
 
"Sublime. This book is speculative fiction at its finest. Mr Naam masterfully mobilizes the zeitgeist of contemporary political and tech culture … Tempts readers with equal parts dread and optimism. This is not a book to be missed."
 – Page of Reviews
 
"Readers of Ramez Naam's techno-thriller Nexus will not want to miss the awesome sequel, Crux."
 – Kurzweil AI
 
"Crux does the work of great science fiction. It makes the reader look closely and critically at what kind of world we're building here and now."
 – Kent Peterson
 
"Naam's writing is always strong, fluid and sure. With gripping, heart-pounding action scenes and muscle-binding tension normally reserved for horror stories, Crux is a book you don't want to miss."
 – Allways Unmended
 
"A worthy sequel that reads like a mash-up of Michael Crichton and Tom Clancy, Naam's cyberpunk thriller is even better than the original."
 – SF Signal
 
"I found myself tearing through the pages as chapters flew by from different characters' perspectives until the final pieces fall into place. If you enjoyed Nexus you will absolutely love Crux."
 – My Bookish Ways
 
"Crux would probably work fantastically as a movie and I wouldn't be surprised if we saw a whole franchise spawning from Naam's creations. […] Until then we should enjoy the thought provoking, but ultimately fun, workings of Nexus 5."
 – upcoming4.me
 
"I have not seen an ending this well-executed since Steven Erikson. The staccato POV. That slow realization, where you "get it" just a few seconds before the characters do. The warring emotions. The dramatic irony. This is an author who is going straight to the top of my favourite new writers list".
 – Ristea's Reads
 
"Crux is a model sequel, a novel that builds off of the success of the original rather than trying to imitate it. Naam is writing one of the most exciting thrillers I have ever encountered – crafting a near future that holds as much promise as it does menace. This could usher in a new wave of cyberpunk, a socially relevant shot to the frontal lobe. I hope the overlords of Angry Robot Books are smart enough to lock this series down for the long run, because I need more."
 – SF Signal
 
"Ramex Naam's Crux, a follow up to his thriller Nexus, is just as exciting as the first book and will take the reader on a real thrill ride that is terrifying and gripping."
 – Looking for a Good Book
 
"The book quite liturgically got my pulse up and the first night I read it, I had to set an alarm or I would not have gotten any sleep. this is a very compelling near future science fiction thriller!"
 – Brewing Tea & Books
Angry Robot, 9780857662965, 512pp.
Publication Date: August 27, 2013
About the Author
Ramez Naam is a professional technologist, and was involved in the development of Microsoft Internet Explorer and Outlook. He holds a seat on the advisory board of the Institute for Accelerating Change, is a member of the World Future Society, a Senior Associate of the Foresight Institute, and a fellow of the Institute for Ethics and Emerging Technologies. 

His non-fiction book More Than Human won the H.G. Wells Award. 

His novels has been nominated for the Kitscie Award for Best Debut, the Prometheus Award, and the Arthur C. Clarke Award. He is a 2014 nominee for the John W. Campbell Award for Best New Writer.
or
Not Currently Available for Direct Purchase