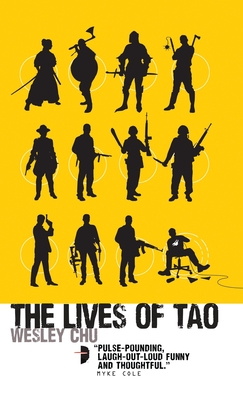 The Lives of Tao (Tao Series #1)
Mass Market

* Individual store prices may vary.
Other Editions of This Title:
Digital Audiobook (4/29/2013)
MP3 CD (10/18/2016)
Compact Disc (4/30/2013)
Description
Goodreads Choice Finalist for Science Fiction

A pizza-loving slacker becomes the host of an ancient alien—and a pawn in an ongoing alien war—in this "science fiction romp" full of wit and humor (Huffington Post)
 
When out-of-shape IT technician Roen woke up and started hearing voices in his head, he naturally assumed he was losing it.

He wasn't.

He now has a passenger in his brain—an ancient alien life-form called Tao, whose race crash-landed on Earth before the first fish crawled out of the oceans. Now split into two opposing factions—the peace-loving, but under-represented Prophus, and the savage, powerful Genjix—the aliens have been in a state of civil war for centuries. Both sides are searching for a way off-planet, and the Genjix will sacrifice the entire human race, if that's what it takes.

Meanwhile, Roen is having to train to be the ultimate secret agent. Like that's going to end up well.
Praise For The Lives of Tao (Tao Series #1)…
"A totally original sci-fi thriller that will have you hooked from page one with both riveting action and a sly wit. This is a story of human history, the hidden powers that have shaped it, and one man's transformation from complete nobody to a key fighter in the war for humanity's future."
—Ramez Naam, author of Nexus

"Few books begin more engagingly than The Lives of Tao, a science fiction romp which wears its principal strength—the wit and humor of the narrative voice—on its sleeve."
—Huffington Post

"Chu's good-natured adroitness with character development is matched by his thriller-style plotting, a fine blend of gentle humor and sharp suspense."
—Barnes & Noble Review

"If you want something to read on a plane or settle into over the weekend, this is the book you want to pick up. But like most great stories, there's a little more going on under the surface."
—SF Signal

"A science fiction story that is one part spy novel, one part buddy flick, one part comic book, one part eye-opener history lesson…among many other elements. Yes, it's a lot of parts, but they blend together quite well."
—Examiner

"Filled with non-stop action and brilliant asides on the history of our species, the book is sure to thrill and amuse."
—Ken Liu, Nebula Award winning author of The Paper Menagerie

"Wesley Chu is my hero . . . he has to be the coolest science fiction writer in the world."
—Lavie Tidhar, World Fantasy Award winning author of Osama and The Bookman Histories

"In The Lives of Tao, newcomer Wesley Chu delivers an action-laced scifi thriller filled with clever ideas and witty, engaging characters. A thoroughly enjoyable ride."
—John Marco, Author of The Inhumans and The Tyrants And Kings trilogies

"A fast-paced, high-action SF mix of Jason Bourne meets the Hero's Journey, jam-packed with dark conspiracies, wild romance, ancient aliens, and a secret, globe-spanning war. Loved it!"
—Matt Forbeck, author of Amortals and Hard Times in Dragon City

"Just your usual 'I've got an immensely wise alien in my head who wants me to become and international man of mystery' story. Which is to say, a page-turning homage to other classic SF like Hal Clement's Needle. Recommended."
—Steven Gould, author of the Jumpers series

"In Wesley Chu's debut novel you meet an unlikely hero in the form of Roen, an out-of-shape, self-loathing, under-achieving computer geek. He is soon transformed into a confident, lean, mean fighting machine under the guidance and influence of the ancient alien Tao, who has inhabited his body and is now working hard to get Roen in shape for an important mission – nothing less than to take on the Genjix and save the planet from an evil plot of destruction. This book is high-octane spy vs spy action with a sly sense of humor. Pure pleasure from beginning to end. Highly recommended!"
—Ann Vandermeer, Hugo winning editor of Weird Tales and British Fantasy Award winning publisher of Buzzcity Press
Angry Robot, 9780857663290, 464pp.
Publication Date: April 30, 2013
About the Author
Wesley Chu was born in Taiwan and emmigrated to Chicago, Illinois when he was just a pup. It was there he became a Kung Fu master and gymnast.

Wesley is an avid gamer and a contributing writer for the magazine Famous Monsters of Filmland. A former stunt man and a member of the Screen Actors Guild, he can also be seen in film and television playing roles such as "Banzai Chef" in Fred Claus and putting out Oscar worthy performances as a bank teller in Chicago Blackhawks commercials.

Wesley is a 2014 Alex Award winner for his book The Lives of Tao. He is a 2014 nominee for the John W. Campbell Award for Best New Writer.

Besides working as an Associate Vice President at a bank, he spends his time writing and hanging out with his wife Paula Kim and their Airedale Terrier, Eva.