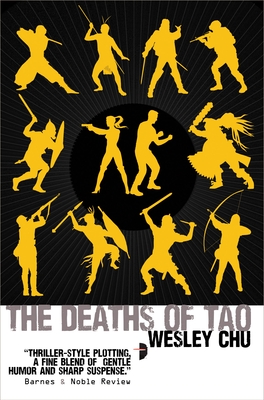 The Deaths of Tao (Tao Series #2)
Mass Market

* Individual store prices may vary.
Other Editions of This Title:
MP3 CD (6/14/2016)
Description
Tensions escalate between two alien factions as the battle to leave Earth reaches deadly new heights in this funny sci-fi thriller sequel to The Lives of Tao

The Prophus and the Genjix are at war. For centuries they have sought a way off-planet, guiding humanity's social and technological development to the stage where space travel is possible. The end is now in sight, and both factions have plans to leave the Earth, but the Genjix method will mean the destruction of the human race.

That's a price they're willing to pay.

It's up to Roen and Tao to save the world. Oh, dear . . .
Praise For The Deaths of Tao (Tao Series #2)…
"At times treading close to outright comedy, this is a fast-paced sf adventure that is, if you look at it from the right angle, more accurately a political thriller posing as an sf adventure. Fans of the first novel will have a great time, and newcomers should have no trouble picking up the plot's various threads as the story moves along. Great stuff."
—Booklist, starred review

"The relationships between humans and their alien passengers continue to fascinate in this sequel to The Lives of Tao."
—Library Journal

"The Deaths of Tao is as funny, loveable and entertaining as the first book, and adds even more depth to the characters, story and themes."
—Fantasy Faction

". . . the end result is a thrilling novel that without quirky aliens would sit triumphantly in Ian Fleming or Vince Flynn's wheelhouse."
—Staffer's Review

"Perhaps the strongest part of The Deaths of Tao is the fact that Chu never lets the story get bogged down. Every time he takes the story forward he does it with an action scene in mind, and this trick rips the reader through from start to finish."
—Buzzy Mag

"A great follow-up to a great book with a killer emotional ending."
—Founding Fields

"The Deaths of Tao has a lot going for it, not to mention a lot going on. With the different perspectives, the alien factions in conflict, and the political and historical elements—there was literally never a dull moment."
—My Shelf Confessions

"Wesley Chu has developed something of a rarity in which there is a mixture of action, espionage, humor, and some romance that blends very smoothly together and gets the reader interested in the characters themselves and not just the endgame of the book."
—Comic Book Therapy

"A decent sequel whose ending made me want to pick up the last book right away."
—It's All About Books

"Chu knows how to blend humor, thrills, terror and romantic angst into one entertaining package, and I can't wait for more."
—Books, Bones, & Buffy

"Wesley Chu brings just the right amount of comic-book style to a setting of serious sci-fi blended well with secret-agent thriller action, and all starring a reluctant hero everyone will love. It's a stellar combination!"
—Popcorn Reads

"Chu has a wonderful ability to blend action and suspense with humor and sweetness. This is, hands down, a great book to read. I highly recommend you read the first book, The Lives of Tao, first. This whole series has proven to be highly entertaining of 5 hoots!"
—Purple Owl Reviews
Angry Robot, 9780857663320, 464pp.
Publication Date: October 29, 2013
About the Author
Wesley Chu was born in Taiwan and emmigrated to Chicago, Illinois when he was just a pup. It was there he became a Kung Fu master and gymnast.

Wesley is an avid gamer and a contributing writer for the magazine Famous Monsters of Filmland. A former stunt man and a member of the Screen Actors Guild, he can also be seen in film and television playing roles such as "Banzai Chef" in Fred Claus and putting out Oscar worthy performances as a bank teller in Chicago Blackhawks commercials.

Wesley is a 2014 Alex Award winner for his novel The Lives of Tao. He is a 2014 nominee for the John W. Campbell Award for Best New Writer.

Besides working as an Associate Vice President at a bank, he spends his time writing and hanging out with his wife Paula Kim and their Airedale Terrier, Eva.