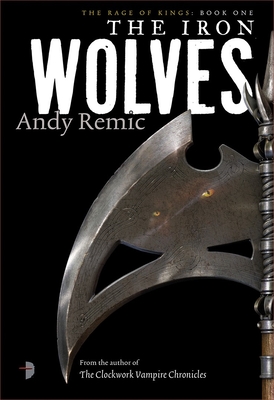 The Iron Wolves (Mass Market)
Book 1 of The Rage of Kings
Angry Robot, 9780857663559, 464pp.
Publication Date: December 31, 2013
Other Editions of This Title:
MP3 CD (10/25/2016)
MP3 CD (12/31/2013)
MP3 CD (12/31/2013)
Compact Disc (12/31/2013)
Compact Disc (12/31/2013)
* Individual store prices may vary.
Description
Thirty years ago, the Iron Wolves held back mud-orc hordes at the Pass of Splintered Bones, and led a brutal charge that saw the sorcerer Morkagoth slain. This ended the War of Zakora, and made the Iron Wolves heroes.
 
Now, a new terror stalks the realm. In hushed whispers, it is claimed the Horse Lady, Orlana the Changer, has escaped from the Chaos Halls and is building an army, twisting horses, lions and bears into terrible, bloody hunters, summoning mud-orcs from then slime and heading north to Vagandrak where, it said, the noble King Yoon has gone insane...
 
After hearing a prophecy from a blind seer, aged General Dalgoran searches to reunite the heroes of old for what he believes will be the final battle. But as mud-orcs and twisted beasts tear through the land, Dalgoran discovers the Iron Wolves are no longer heroes of legend... Narnok is a violent whoremaster, Kiki a honey-leaf drug peddler, and Prince Zastarte a drinker, a gambler, amoral and decadent: now he likes to hear people scream as they burn...
 
United in hate, the Iron Wolves travel to the Pass of Splintered Bones; and as half a million mud-orcs gather, General Dalgoran realises his grave error. Together, the Iron Wolves hold a terrible secret which has tortured them for three decades. Now, they only wish to be human again...

File Under: Fantasy 
About the Author
Andy Remic is a British writer with a love of ancient warfare, mountain climbing and sword fighting. He is a hard-talking, hard-fighting fluffy bunny rabbit of a man, who also enjoys film making, kick boxing and red hot chilli peppers! He has an unhealthy love of chainsaws.
Praise For The Iron Wolves: Book 1 of The Rage of Kings…
Praise for Andy Remic:

"It's a fast brutal fantasy adventure with some fun characters and some fantastic ideas. I am really excited to see the series develop." - Un:Bound

"I have already preordered the next book in the series as I really enjoyed reading this book. If you love Gemmell you will love Remic." - State of Review

" a bloody, violent, fantastic journey through carnage, terror, and a downright epic tale that makes Underworld and every zombie movie look bad... Remic is the Tarantino of fantasy, and if that isn't a compliment, then I don't know what is." - Fantasy & SciFi Lovin'

"Remic (The Clockwork Vampire) delivers the goods for fans of stark brutality and violence in a fantasy setting ... A cliffhanger ending promises more gritty action in future installments."
- Publishers Weekly (November 18, 2013)
or
Not Currently Available for Direct Purchase