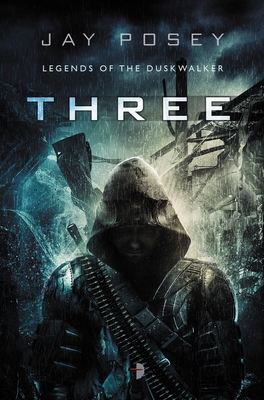 Three (Mass Market Paperbound)
Angry Robot, 9780857663634, 480pp.
Publication Date: July 30, 2013
Description
The world has collapsed, and there are no heroes any more.
But when a lone gunman reluctantly accepts the mantle of protector to a young boy and his dying mother against the forces that pursue them, a hero may yet arise. File Under: Science Fiction Three For All - Apocalyptic Wasteland - A Journey Home - Fear the Weir ]
About the Author
Jay Posey is a narrative designer, author, and screenwriter. Currently employed as Senior Narrative Designer at Red Storm Entertainment, he's spent about 8 years writing and designing for Tom Clancy's award-winning Ghost Recon and Rainbow Six franchises. He started in the video game industry in 1998, and has been writing professionally for over a decade. A contributing author to the book Professional Techniques for Video Game Writing, Jay has lectured at conferences, colleges, and universities, on topics ranging from basic creative writing skills to advanced material specific to the video game industry. The author lives in Durham, NC.
Praise For Three…
"Stark and powerful, THREE is a stunning debut. Reinventing the post-apocalyptic western as a journey across interior badlands as dangerous as the cyborg-haunted terrain his hero must cross, Posey has crafted a story that is impossible to put down."
- Richard E. Dansky, author of Snowbird Gothic

"Three feels like the result of tossing Mad Max, Neuromancer and Metal Gear Solid into a blender. If you don't find that combination appealing, then I do not understand you as a human being."
-Anthony Burch, writer for Borderlands 2 and Hey Ash Watcha Playin

"Jay Posey creates a vivid and mesmerizing world whose characters are so real and so flawed that you'll recognize them immediately.  An unforgettable read."
-Peter Telep, co-author of the #1 NY Times Bestseller Against All Enemies

"A post-apocalyptic road yarn sure to yank your trigger and tug at your heart."
- Matt Forbeck, author of Amortals and Dangerous Games

"... there's no doubt that Posey is someone to definitely watch as a rising star with this debut."
- www.birthofanewwitch.wordpress.com



Advertisement