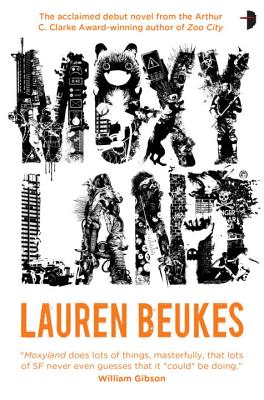 Moxyland (Paperback)
Angry Robot, 9780857663818, 304pp.
Publication Date: May 28, 2013
Other Editions of This Title:
Mass Market Paperbound (8/31/2010)
Paperback (8/16/2016)
Mass Market Paperback (5/1/2010)
MP3 CD (10/4/2016)
Compact Disc (8/16/2016)
Paperback (4/1/2009)
MP3 CD (10/18/2011)
MP3 CD (10/18/2011)
Compact Disc (10/18/2011)
Compact Disc (10/18/2011)
* Individual store prices may vary.
Description
What's really going on? Who's really in charge? You have NO. F***KING. IDEA.
A frighteningly persuasive, high-tech fable, thisnovel follows the lives of four narrators living in an alternative futuristic Cape Town, South Africa. An art-school dropout, and AIDS baby, a tech-activist and an RPG-obsessed blogger live in a world where your online identity is at least as important as your physical one. Getting disconnected is a punishment worse than imprisonment, but someone's got to stand up to Government Inc. - whatever the cost. Taking hedonistic trends in society to their ultimate conclusions, this tale paints anything but a forecasted utopia, satirically undermining the reified idea of progress as society's white knight.
From the bestselling author of "The Shining Girls" and the Arthur C. Clarke-award-winning "Zoo City."
File Under: Science Fiction Digital Natives - Marketing Wars - Corporate Control - Teenage Riot ]
E-book ISBN: 978-0-85766-005-3
"From the Paperback edition.
About the Author
Lauren Beukes is a writer, TV scriptwriter and recovering journalist (although she occasionally falls off the wagon).

She has an MA in Creative Writing, but she got her real education in ten years of freelance journalism, learning really useful skills like how to pole-dance and make traditional sorghum beer. For the sake of a story, she's jumped out of planes and into shark-infested waters and got to hang out with teen vampires, township vigilantes, AIDS activists and homeless sex workers among other interesting folk.

When she's not tutoring her baby daughter (aka the queen of eeeeeeevil) in practical ways to take over the world, she also writes books, short stories, magazine articles and TV scripts various.

Her non-fiction book, Maverick was nominated for the Sunday Times 2006 Alan Paton Non-Fiction Book of the Year competition. The author lives in Cape Town, South Africa.
Praise For Moxyland…
"Moxyland does lots of things, masterfully, that lots of sf never even guesses that it *could* be doing." - William Gibson, author of Neuromancer

"The world Beukes has invented is both eerily familiar and creepily different." - Cosmopolitan

"This fast-paced sci-fi trip has intriguing characters, big ideas, a new lexicon and... serves as a global warning." - GQ

"You don't have to be an SF aficionado to love this novel that is fast, brimming with original ideas and deadly serious." - Mail & Guardian

"George Orwell's 1984 meets Bladerunner. Lauren Beukes breaks new literary ground with effortless hipness." --Margie Orford, author of Like Clockwork

"...full of unselfconscious spiky originality, the larval form of a new kind of SF munching its way out of the intestines of the wasp-paralysed caterpillar of cyberpunk." - Charles Stross

"A technicolor jazzy rollercoaster ride into a dazzling hell." - Andre Brink

"Beukes's stunningly original sci-fi thriller chills and thrills to the last breath" - Heat Magazine, South Africa (July 2008)

"Lauren Beukes bleeds her characters of color as effectively as the smear masks they wear for anonymity, not for simple provocation, but to warn of the self-replicating nature of segregation." - Brendan Byrne, The Brooklyn Rail

"[Moxyland] is recommended for what might very well be the emergence of a major new science-fiction author. -Alan Cranis, www.bookgasm.com

"After the first hundred pages, I would have to say that reading Moxyland is like riding backward very fast in a convertible." - J. Robert King

"Go and read Zoo City and Moxyland by Lauren Beukes – someone took cyberpunk from the toy box, dusted it up and spanked it to shape for the new millennium." -Janos Honkonen, Vornasblogi
or
Not Currently Available for Direct Purchase