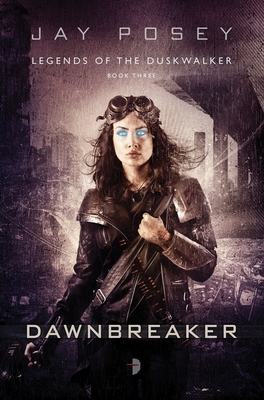 Dawnbreaker (Mass Market)
Legends of the Duskwalker, Book Three
Angry Robot, 9780857664488, 512pp.
Publication Date: August 4, 2015
Other Editions of This Title:
MP3 CD (8/9/2016)
* Individual store prices may vary.
Description
Wren is living in Greenstone under the temporary care of Charles and Mol, and the protection of Chapel. Unable to determine the fate of his mother and those he left behind in Morningside, Wren believes there is nothing left to do but wait for Asher's final blow … until a man named Haiku walks into the Samurai McGann, looking for Three.

After learning of Three's fate, Asher's ascension, and Wren's gift, Haiku offers his help, and together they set out to find the remnants of House Eight and convince them to help.

As Cass and the few who survived the fall of Morningside face overwhelming odds to escape Asher and the Weir, they realize it is impossible…until their daring and probably suicidal plan to strike turns out to have surprising results and unexpected discoveries.

File Under: Science Fiction [ Third of Three / Nil Desperandum / Against the Weir / Charles the First ]
About the Author
Jay Posey is a narrative designer, author, and screenwriter. Currently employed as Senior Narrative Designer at Red Storm Entertainment, he's spent about 8 years writing and designing for Tom Clancy's award-winning Ghost Recon and Rainbow Six franchises. He started in the video game industry in 1998, and has been writing professionally for over a decade.

A contributing author to the book Professional Techniques for Video Game Writing, Jay has lectured at conferences, colleges, and universities, on topics ranging from basic creative writing skills to advanced material specific to the video game industry. The author lives in Durham, NC.
Praise For Dawnbreaker: Legends of the Duskwalker, Book Three…
"Dawnbreaker is the third book in the Legends of the Duskwalker trilogy, which may be one of the best sci-fi trilogies published in the last decade.  Start at the beginning, with Three, and don't stop until you get to the end."
– Looking for a Good Book

"Dawnbreaker is every bit the great final novel of this trilogy, and ended as good as it started. Couldn't have asked for more. Highly recommend this trilogy, start to finish!"
– Life's A Beach

"The book has a lot of heart and enthusiasm going for it – and I really appreciated the manner in which Jay ended the series."
– Smorgasbord Fantasia

"One hell of a book!"
– Popcorn Reads

"Jay Posey has created an incredible new world (at least for me it is).  I found it to be very original and not like anything else I have been reading/listening to lately."
– Audio Book Reviewer

PRAISE FOR THE LEGENDS OF THE DUSKWALKER SERIES


"Stark and powerful, Three is a stunning debut. Reinventing the post-apocalyptic western as a journey across interior badlands as dangerous as the cyborg-haunted terrain his hero must cross, Posey has crafted a story that is impossible to put down."
– Richard E. Dansky, author of Vaporware and Snowbird Gothic

"Jay Posey creates a vivid and mesmerizing world whose characters are so real and so flawed that you'll recognize them immediately. An unforgettable read."
– Peter Telep, Co-author of the #1 New York Times Bestseller, Against All Enemies

"Gritty action-packed drama so hi-res and real you'll believe you got something in your eye."
– Matt Forbeck, author of Amortals and Dangerous Games

"Three feels like the result of tossing Mad Max, Neuromancer and Metal Gear Solid into a blender. If you don't find that combination appealing, then I do not understand you as a human being."
– Anthony Burch, writer for Borderlands 2 and Hey Ash Whatcha Playin

"Three is a great start into a new series. The post-apocalyptic world that Jay Posey created in Three is brilliantly constructed, it's just chock-full of the cool stuff, futuristic gadgets (guns and the like), augmented people and not forget the Weir."
– The Book Plank

"Three is a post-apocalyptic adventure tale in the vein of The Road Warrior, only with fewer vehicles and a higher tech level and body count…Posey knows how to pour on the tension. 4.5 stars. Now I'll twiddle my thumbs until the next Legends of the Duskwalker book comes out."
– Shelf Inflicted

"Posey has constructed a really unique world, one that steps to the side of the usual zombie tropes and provides an apocalypse that's at once unfathomable, but also believable. That's no mean feat."
– SF Crow's Nest

"What really drew me to this book was the mix of elements. It's post-apocalyptic. It's a western in styling. It's science fiction–sometimes rather hard science fiction. It's a bit of a fantasy, too. The blend of fantastical elements with the science fiction ones, which are in turn harnessed to the western post-apocalyptic setting is a matter of brilliance on Posey's part."
– On Writing

"Morningside Falls is a clever, unexpected take on a digitally enhanced post-apocalyptic world."
– Never To Be Told

"You never know whether book #2 will be as good as book #1. Rest easy – although Morningside Fall has to take a different tone because of story development I feel its every bit as good as Three and it makes me anxious to read book #3! Mr Posey, I'm ready for the next installment!"
– Popcorn Reads
or
Not Currently Available for Direct Purchase