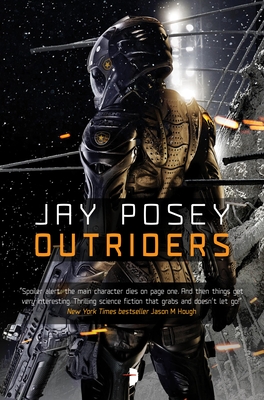 Outriders
Mass Market

* Individual store prices may vary.
Description
The start of a Military SF series from imprint best-seller and Tom Clancy game series writer Jay Posey.

Captain Lincoln Suh died on a Wednesday. And things only got harder from there.

Snatched out of special operations and thrown headfirst into a secretive new unit, Lincoln finds himself as the team leader for the 519th Applied Intelligence Group, better known as the Outriders. And his first day on the job brings a mission with the highest possible stakes.

A dangerously cunning woman who most assuredly should be dead has seemingly returned. And her plans aren't just devastating, they might be unstoppable.

How do you defeat a hidden enemy when you can't let them know they've been discovered?

You send in the Outriders.

File Under: Science Fiction
Praise For Outriders…
"A few pages into Outriders and I forgot the book was set in a sci-fi world. Jay nails the mindset and the dynamics of a special operations unit. Keenly written with authentic characters, Outriders was one of the best sci-fi books I've read in a long time."
 - Kevin Maurer, author of Hunter Killer and No Easy Day

"Spoiler alert: The main character dies on page one. And then things get very interesting. Posey's Outriders is thrilling, action-packed science fiction that grabs and doesn't let go!"
 - Jason M. Hough, New York Times bestselling author of The Dire Earth Cycle

"Outriders offers up a realistic portrayal of grey world / black ops while doing some nice horizon busting both conceptually and technologically. A highly enjoyable read."
 -  August Cole, co-author of Ghost Fleet: A Novel of the Next World War
 
"With Outriders, Jay Posey announces himself as belonging in the top rank of military science fiction authors. Effortlessly cool and instantly engaging, Outriders is impossible to put down."
 -  Richard Dansky, lead writer, Tom Clancy's The Division
 
"I literally bit my nails to the quick from the non-stop, mind-bending action and tension - Jay Posey, you owe me new fingernails, but I forgive you that along with the lost sleep. It was well worth every minute of it. This is classic interplanetary outer-space sci-fi in the grand classical tradition and I ate it up! I really can't wait until Book #2 is ready to read - so get writing already - those are your marching orders, Mr. Posey! And for you sci-fi fans out there, I highly recommend Outriders!"
 -  Popcorn Reads
 
"This book should have come with a warning - Attention! Once started this book cannot be put down. An amazing blending of military action & SF. I have rarely encountered a book that I HAD to finish; it kept me up all night. But it was worth it."
 -  A Book Drunkard
 
"I really enjoyed reading this. It was very smooth, and felt more like a conventional spec-ops novel translated into the future…"
 -  Morning Book Review
 
"The adventure zipped along at a cracking pace with plenty of tension."
 -  Brainfluff
 
"This was a fun read. Outriders is a story well-balanced between a space opera and military science fiction."
 -  Jerald Nichols
 
"At the heart of Outriders is a thriller with bursts of action and a book you begin to read and realise you've become so engrossed in that a whole day has passed by without you noticing."
 -  Strange Alliances
 
"People are judged on the content of their character, their actions and choices, not even a little bit on what they look like or who their ancestors were. I hope other authors take note. This is how you do diversity."
 -  Reanne Reads
 
"It is a military science fiction adventure story with a twisty plot and a complex political landscape. It focuses on a very small unit of people with character development as a centerpiece but the plot gods are also appeased. A great read for lovers of science fiction adventure!"
 -  Bull Spec
 
"It read like a good Spec Ops story, but with the added flavor of being set in the future. I look forward to reading more in this series. 5/5."
 -  John Purvis
 
"Jay Posey is stepping up and showing the science fiction community that he is a powerhouse in the genre."
 -  Looking for a Good Book
 
"Posey's writing is easy, the characters nuanced, and certainly there is a lot to love here as a result. The villains are just as interesting as the good guys and there is definitely a set up for a larger story."
 -  Online Eccentric Librarian
 
"Outriders offers a high-paced blend of near-future space opera and military sf, and in a nutshell it's good fun."
 -  SFF World
 
"Very smooth… like a conventional spec-ops novel translated into the future."
 -  Morning Book Review
Angry Robot, 9780857664518, 448pp.
Publication Date: May 3, 2016
About the Author
Jay Posey is a narrative designer, author, and screenwriter. Currently employed as Senior Narrative Designer at Red Storm Entertainment, he's spent about 8 years writing and designing for Tom Clancy's award-winning Ghost Recon and Rainbow Six franchises. He started in the video game industry in 1998, and has been writing professionally for over a decade. A contributing author to the book Professional Techniques for Video Game Writing, Jay has lectured at conferences, colleges, and universities, on topics ranging from basic creative writing skills to advanced material specific to the video game industry. The author lives in Durham, NC.
or
Not Currently Available for Direct Purchase