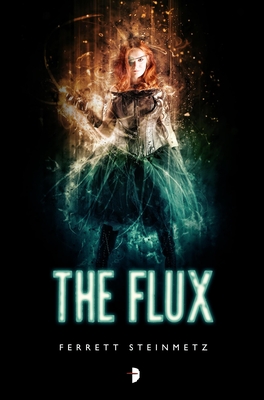 The Flux ('Mancer #2)
Mass Market

* Individual store prices may vary.
Other Editions of This Title:
MP3 CD (8/9/2016)
Description
The second edge-of-your-seat adventure in an urban fantasy series featuring a bureaucracy-obsessed magician, his rebellious daughter—and a spectacularly original magic system
 
Love something enough, and your obsession will punch holes through the laws of physics. That devotion creates unique magics: videogamemancers. Origamimancers. Culinomancers.

But when 'mancers battle, cities tremble…

Aliyah Tsabo-Dawson: The world's most dangerous eight-year-old girl. Burned by a terrorist's magic, gifted strange powers beyond measure. She's furious that she has to hide her abilities from her friends, her teachers, even her mother—and her temper tantrums can kill.

Paul Tsabo: Bureaucromancer. Magical drug-dealer. Desperate father. He's gone toe-to-toe with the government's conscription squads of brain-burned Unimancers, and he'll lie to anyone to keep Aliyah out of their hands—whether Aliyah likes it or not.

The King of New York: The mysterious power player hell-bent on capturing the two of them. A man packing a private army of illegal 'mancers.

Paul's family is the key to keep the King's crumbling empire afloat. But offering them paradise is the catalyst that inflames Aliyah's deadly rebellious streak . . .
Praise For The Flux ('Mancer #2)…
"The Flux is the best kind of sequel: bigger, deeper, scarier, funner. The emotional journey it takes the reader on is just as thrilling as the jaw-dropping wonders of videogamemancy and bureaucramancy. With the 'Mancer series, Ferrett Steinmetz has achieved something rare in contemporary fantasy: a world that feels both truer and more magical than our own."
—Ken Liu, winner of the Nebula, Hugo, and World Fantasy Awards and author of the The Grace of Kings and The Paper Menagerie and Other Stories

"I really, really liked the uniqueness of the world of magic Steinmetz has created with his novels.  It's very well thought out, and structured. It was exciting to see how someone obsessed with video games would see the world, and its rules, through the use of 'mancy. I also enjoyed the addition of such human dynamics between all of the characters. Steinmetz has done a wonderful job of blending superb battles between the 'mancers and mundanes, with heart wrenching moments with Paul and his eight-year-old daughter Aliyah, while still walking the tightrope of creating a story about family, good vs evil, and trust."
—Books, Cats and Caffeine

"I cannot express this enough, THIS BOOK MUST BE READ! 5 HOOTS."
—Purple Owl Reviews

"I give The Flux a score of 9.5/10. This is a great novel that like with Flex I would strongly recommend to anyone who has any interest at all in Urban Fantasy as a genre, and even to people who've never read the genre before and might be interested in giving it a go; the Mancer series would be a fantastic introduction for you. This book makes Ferrett Steinmetz a name to watch."
—Talk Wargaming

"If you're looking for some truly original urban fantasy, particularly if you're a gamer, you needto try this series. The Flux was good I read it twice."
—Bookaneer

"Explosively good fun."
—The Speculative Herald

"The Flux is a sequel that is superior to its original… and the original was a must-read. So go read this book, now."
—ideatrash

"Ferrett Steinmetz has created something crazy wonderful here.  The magic is geektacularly awesome (Videogamemancy! Fight Clubmancy! You name it, it's a 'mancy.)…The Flux is one of those rare books that's part of a series (book two), but is written to be a stand alone."
—Geeky Library

"A fun read with plenty of heart."
—Relentless Reading

"Roses are red, violets are blue, Valentine is kick-ass, and Paul Tsabo is too."
—Fat Robot

"Steinmetz has done some great work here, and I look forward to seeing more from this still fairly new author."
—Strange Currencies

"The world Ferrett Steinmetz has created is wildly imaginative and his writing style is somewhat reminiscent of Richard Kadrey's Butcher Bird and Sandman Slim novels. Needless to say, both Flex and The Flux are wild rides which take the reader to places they've never been before, and beyond."
—Frank Michael Errington

"The momentum it keeps up throughout it had me on my toes. I was actually crying during some scenes- a rarity if you know me, and a rather high award. I absolutely loved how this book finished off. Last but not least, I need to mention the cover. It's just gorgeous isn't it? I love that Valentine is on the cover! She looks totally badass."
—Tsundoku Books

"Some of the more unique and enjoyable urban fantasy I've read as of late."
—The Artolater

"I think the 'Mancer series can easily be considered the best urban fantasy series that I'm currently reading. It has everything that I love about this genre. A city whose importance can be felt within the plot and the character's love for it. A magic system that shines and fascinates. And characters that are crazy but loveable."
—Challenging Reads

"Just as with Flex, I can only say good things about The Flux. Storywise it is definitely one of the coolest things that I read in a long time. Ferrett Steinmetz shows a lot of creativity with the whole Mancer magic system that he has divised. Delving deeper into what is takes to be a Mancer, he doesn't shy away from showing the bad and the ugly as well."
—The Book Plank

"This series features some of the most intricate and unique concepts I've ever seen."
—Bibliotropic

"Like its predecessor, The Flux was pure geek escapism."
—The Bibliosanctum
Angry Robot, 9780857664631, 400pp.
Publication Date: October 6, 2015
About the Author
Ferrett Steinmetz is a graduate of both the Clarion Writers' Workshop and Viable Paradise, and has been nominated for the Nebula Award, for which he remains stoked.

Ferrett has a moderately popular blog, The Watchtower of Destruction, wherein he talks about bad puns, relationships, politics, videogames, and more bad puns. He's written four computer books, including the still-popular-after-two-years Wicked Cool PHP.

He lives in Cleveland with his wife, who he couldn't imagine living without.

Find Ferrett online at theferrett.livejournal.com or follow him@ferretthimself on Twitter.
or
Not Currently Available for Direct Purchase