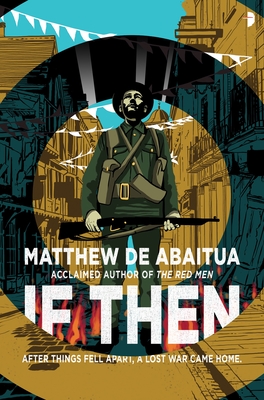 If Then (The Seizure Trilogy #2)
Mass Market

* Individual store prices may vary.
Description
James has a scar in the back of his head. It's where he was wounded in the Battle of Suvla Bay in August 1915. Or is the scar the mark of his implant that allows the Process to fill his mind with its own reality?

In IF, the people of a small English town cling on after an economic collapse under the protection of the Process. But sometimes people must be evicted from the town. That's the job of James, the bailiff. While on patrol, James discovers the replica of a soldier from the First World War wandering the South Downs. This strange meeting begins a new cycle of evictions in the town, while out on the rolling downland, the Process is methodically growing the soldiers and building the weapons required to relive a long lost battle.

In THEN, it is August 1915, at the Battle of Suvla Bay in the Dardanelles campaign. Compared to the thousands of allied soldiers landing on this foreign beach, the men of the 32nd Field Ambulance are misfits and cranks of every stripe: a Quaker pacifist, a freethinking padre, a meteorologist, and the private (once a bailiff) known simply as James. Exposed to constant shellfire and haunted by ghostly snipers, the stretcher-bearers work day and night on the long carry of wounded men. One night they stumble across an ancient necropolis, disturbed by an exploding shell. What they discover within this ancient site will make them question the reality of the war and shake their understanding of what it means to be human…

File Under: Science Fiction [ Trust the Process | A Debate With Bullets | Algorithms For War | Omega John ]
Praise For If Then (The Seizure Trilogy #2)…
"Sumptuously written, with prose that glitters with a dark lustre like a Damien Hirst fly collage. intricately plotted, and a satirical point as sharp and and accurate as the scalpel of a brain surgeon: De Abaitua operates on the smiling face of the present to reveal the grimacing skull of the future."
– Will Self
"This is the kind of post-apocalypse, after-it-all-changed novel – with clever codicils – that the Brits do with so much more classy, idiosyncratic style than anyone else. It is full of magisterial weirdness, logical surrealism, melancholy joy and hopeful terror. If I begin to toss out names like Adam Roberts, Brian Aldiss, Keith Roberts, and J. G. Ballard, I will not be lavishing undue praise."
– Paul Di Filippo, for Locus Magazine
"If Then may be one of the most important works of British SF to appear in recent years. It is stunningly original and superbly well written. For those who care about such things, it is firmly of SF, not the literary mainstream – yet it is technically as complex and well executed as any modernist novel you may meet on your Booker travels. I hope this book will be discussed and debated and praised, for it deserves all three sorts of attention in generous measure. If Then is the opposite of the literature of reassurance, it is everything science fiction should be aiming for, and it is wonderful to see de Abaitua back on the scene."
– Nina Allan
"I cannot praise (If Then) highly enough: eloquent, intelligent, brilliant."
– Elsa Bouet, Shoreline of Infinity
"I can't recommend this book more highly. It's slipstream fiction for polymaths. If Then flips off expectations of genre and leaves me feeling like I'm riding its shockwave into the future of literature."
– Boldly Read
"De Abaitua builds on the promise he demonstrated in The Red Men in this intellectual science fiction novel, whose ambition is matched by its execution. The author's thoughtful world-building is enhanced by a cast of relatable characters."
– Publishers Weekly
"The alternating viewpoints set in a modern town and during World War I will have you itching to know what's really going on."
– Kirkus Reviews
"One of the most intriguing and disturbing near-future speculations published for some years."
– Strange Horizons
"This is a powerful novel, both in its portrayal of the horrors of World War I, the wasteful loss of life, the dreadful conditions, the failures of those who let the war happen, and also in showing how easily the systems that support our modern-day lives could fall apart."
– Steven Theaker, Interzone
"De Abaitua draws on the techniques of British science fiction from Wells, Huxley and Stapledon through to Ballard and deploys them like a master in crafting this simultaneously parochial and profound meditation on the nature of war understood as an evolutionary process. With language that is both lyrical and precise he has created a philosophical fiction that is compelling, extremely moving and deeply unsettling. An extraordinary book."
– James Flint, author of The Book of Ash and 52 Ways to Magic America
"Both bucolic and an oppressive love story set against the background of an enigmatic dictatorship of sorts, this tale of reality askew is also a powerful meditation on the nature of war, the misuse of technology and the grit and determination of the common man. Thoughtful, at times frustrating but well worth the final reward, and stylically elegant, a different kind of science fiction."
– Maxim Jakubowski, Lovereading
"If Then is an incredibly enthralling and original tale that still has me thinking about it weeks after I read it. A brilliant entry onto the scene, If Then is a must read for anyone even remotely interested in speculative fiction."
– Smash Dragons
"A fascinating read."
– Susan Hated Literature
"Six out of five stars."
– One Breath Book Reviews
"We are forced to reflect on the way modern society normalises war and conflict for the many by concentrating the horror of it in a few. If Then asks us what value we place on people beyond their role as economic units, and whether we would rethink our actions if we were able to truly experience their consequences at first hand."
– Astounding Yarns
"If Then is a very interesting combination of science fiction and war literature, questioning what people are capable of and how far they should go. The book poses some great questions on artificial intelligence and technology without really giving you any answers, but it definitely makes it worth it reading this book with someone else and then discussing it to death. If Then definitely demands your attention and if you're looking for a mind-boggling and challenging read then you should definitely give this one a try."
– Bored to Death Book Club
"If Then is an extremely satisfying story about humanity's inability to cope with both change and uncertainty."
– Lit/Rant
"If Then is a particular kind of British rural science fiction, in which a deeply unsettling pall overshadows what should be a Utopian idyll. The novel has antecedents in the works of John Wyndham, George Orwell and Aldous Huxley – and it is every bit as good as the best works of those writers. It is full of mind-bending ideas, great characters and wonderful writing. If there is any justice, it deserves a nomination for the next Hugos."
– Adventures in Sci-Fi Publishing
"This is a really tremendous speculative fiction book that examines humanity and society. The tenor of the book reminds me of the speculative fiction writers I was reading back in the 1970's. Michael Bishop, Thomas Disch, Gene Wolfe, Roger Zelazny. I consider some of their work to be thoughtful, introspective studies on humanity and self. And while it reminds me of these authors, this book strikes me as quite original. I was hooked early on with author Matthew de Abaitua's descriptions of the people and the community. He created something very real and easy to believe in, and managed to let us know right away that we were outside our modern norm. I am impressed with science/speculative fiction is headed these days. If you want something more than just a space opera or fantasies with trolls and elves and lots of magic, there are strong works out there, such as this one."
– Looking for a Good Book?
"Interesting and intriguing."
– YLogs
"If Then is a vitally intelligent book that asks the difficult, probing questions we need to be asking ourselves about consciousness, morality, how we are going to live in the future and our own humanity. It is, in the best sense, a profoundly worrying novel, one that the reader's mind keeps returning to long after finishing."
– Golden Apples of the West
"If Then is by any measure an extremely fine work s which stands shoulder to shoulder with some of the best for several reasons. The overall concept is complex and original and is handled with complete confidence. The characters are fully formed and the sheer quality of both the vivid descriptive passages and the believable dialogue makes the book a complete cerebral and visceral three-dimensional experience."
– The Generalist
"If you like a challenging read, worry about the human mind and our cognitively dissonant yearnings for self-destruction and self-preservation, or you're interested in the horrors of war or the Gallipoli landings of 1915, or you have a yen for dystopian near-futures, or are a fan of Brian Aldiss, Aldous Huxley (whose brother makes an indirect appearance) or, indeed, Olaf Stapledon, then you should pick up a copy as soon as you can."
– Metaliterature
Further praise for Matthew De Abaitua:
"De Abaitua's extraordinary fictions, scientific and otherwise, emerge from a deep and mysterious understanding of culture, and show it to us in a new light."
– James Bridle
"The Red Men is a breathtaking novel of ideas."
– I09.com
"The Red Men is an exciting and confident debut."
– Strange Horizons
"If Then is a love story, the history of a marriage, a topical meditation on the end of capitalism; best of all, it is a bone-deep, blood-sweet British fantasy, naive and ingenious as William Morris and as warpedly nostalgic as Richard Jeffries' After London. As disturbingly hyperreal as any Pre-Raphaelite painting, If Then imagines what the end of history really will really look like, what's really at stake, and maybe, just maybe, what we can do about it."
– Simon Ings, author of Wolves
"This near-future literary thriller is remarkably prescient… it is De Abaitua's pinsharp observations of human nature that make this an uncomfortably standout read for me."
– Sarah Higbee
"Matthew de Abaitua challenges the expanding enactment of modern culture through social media and its devices by taking it to its furthest extreme, and that's only one of the issues he grapples with in this extraordinarily well-written, intelligent and meticulously researched work… This brilliant book tests the reader with questions relevant to our day-to-day lives."
– Fiction Uncovered
"De Abaitua deliciously smashes together today's worst middle-class fears of economic catastrophe with the empire-fracturing legacy of the First World War.  He equates our surrender to a digitised society with the soldiers' incorporation into the imperial war machine – and, through some clever attention to historical detail, he suggests that our past might yet hold the key to a weird and hopeful future."
– Matt Finch / Mechanical Dolphin
"The prose has a wonderful lightness and simplicity at odds with its complex subject; at no point is the dense narrative difficult or obtuse. Visceral yet bracingly clever; haunting but more timely by the day, If Then is one of the most insightful and relevant English science fiction novels of recent years."
– Andrew Wallace, author of Sons of the Crystal Mind
Angry Robot, 9780857664662, 416pp.
Publication Date: September 1, 2015
About the Author
Matthew De Abaitua's novel The Red Men was shortlisted for the Arthur C Clarke Award and adapted into a short film 'Dr Easy' by Shynola and produced by Film4/Warp Films. His science fiction novels IF THEN (Angry Robot, September 2015) and The Destructives (Angry Robot, 2016) complete the loose trilogy begun with The Red Men. His book Self & I: A Memoir of Literary Ambition (Eye Books, 2018) was widely reviewed in the national press, chosen as a Financial Times Summer Read and described by The Times Literary Supplement as "a compelling reminiscence". He teaches creative writing and science fiction at the University of Essex and lives in Hackney.

harrybravado.com 
twitter.com/mdeabaitua

Author hometown: London, UK
or
Not Currently Available for Direct Purchase