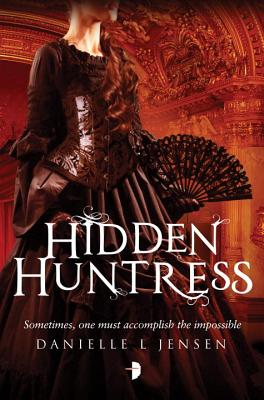 Hidden Huntress (Paperback)
Malediction Trilogy Book Two
Angry Robot, 9780857664723, 464pp.
Publication Date: May 25, 2015
Other Editions of This Title:
MP3 CD (5/24/2016)
* Individual store prices may vary.
Description
Sometimes, one must accomplish the impossible.

Beneath the mountain, the king's reign of tyranny is absolute; the one troll with the capacity to challenge him is imprisoned for treason. Cécile has escaped the darkness of Trollus, but she learns all too quickly that she is not beyond the reach of the king's power. Or his manipulation.

Recovered from her injuries, she now lives with her mother in Trianon and graces the opera stage every night. But by day she searches for the witch who has eluded the trolls for five hundred years. Whether she succeeds or fails, the costs to those she cares about will be high.

To find Anushka, she must delve into magic that is both dark and deadly. But the witch is a clever creature. And Cécile might not just be the hunter. She might also be the hunted…
About the Author
Danielle Jensen began with writing several romance novels in 2006 before turning to her favorite genre, fantasy. Her debut novel, Stolen Songbird, was a USA Today Bestseller.

For almost three years, she juggled going to school full-time during the day and working full-time at night, writing during her very limited bits of free time. 

In June of 2012, she graduated from Mount Royal University with a Bachelor of Arts English (Honors).

Stolen Songbird, the first book in Jensen's Malediction Trilogy, was published by Angry Robot in April 2014. Book Three, Warrior Witch, is scheduled for May 2016.
Praise For Hidden Huntress: Malediction Trilogy Book Two…
"Love, adore, heart-to-freaking-pieces. This kind of book is why, why, why people need to look more closely at YA fantasy if they don't already. Let Jensen show you how it's done. Topping Stolen Songbird was always going to be a difficult task, but naturally Jensen manages it. The bar was set and so she vaulted over it, off into the sunset to a fanfare of praise."
– Jet Black Ink

"This is a wonderfully written story, and as the second novel in this series, it perhaps even supersedes the first as it morphs in to entirely new directions."
– Quirkathonic

"I would highly recommend this book to everyone! It's action-packed, full of magic and has great characters.  My only regret is that I'll have to wait such a long time for the third book."
– The Fictional Reader

"This was an absolutely fantastic YA fantasy novel. There is a ton of wonderful magic and intrigue in this book. I love the chemistry between Cecile and Tristan and how they are both striving to make the kingdom a better place for all involved. I really enjoyed this book a ton and am very excited to see how the story wraps up in the final book of this series. This series is highly recommended to fans of intrigue heavy fantasy."
– Hidden In Pages

"This book is everything I wanted and more, I can't wait to see how this author will conclude this, so far amazing, trilogy!"
– Zach's YA Reviews

"Hidden Huntress is a solid and well developed story…Ms. Jensen's writing makes it so that the story remains intriguing and unpredictable each step of the way."
– The Blair Book Project

"My heart soars and breaks at the same time just by thinking about this book. This awesome, stunning and wonderfully written book. Hidden Huntress was epic & such an exciting adventure into a world filled by magic so dark and beautiful. It made me smile, it made me grieve, it made my heart pump faster than ever before, and impossible as I thought it was, it made me fall harder and deeper in love with this series."
– The Writer & The Chef

"Hidden Huntress is just as good, if not better, than Stolen Songbird. Let me tell you, this book has no hint of Middle Book Syndrome, which usually plagues trilogies. So much important stuff happens that I couldn't even begin to summarize it, and I'm not going to try. Because Hidden Huntress is too good to spoil!"
– Leeanna.me

"Hidden Huntress does not disappoint!  This story is told with a confidence earned through vivid scenery, bright characters, and a theme that holds everything together like steel wire."
– Cowering King

"Hidden Huntress is the sequel to Stolen Songbird, a book I loved and adored and encouraged everyone of my acquaintance to read. I'll have to adopt the same tack with this worthy follow-up, because Danielle L. Jensen's emotional resonance game is strong, strong, strong."
– In the Forest of Stories

"Any fan of The Malediction trilogy would not want to miss out on this exquisite continuation to Stolen Songbird!"
– Book Cat Pin

"I devoured this book."
– Akosimayeee

"With all kinds of magic and witchery, this book embodies the title of Hidden Huntress. Danielle L. Jensen has shaped an underground city of magical creatures into one of my most valued book worlds – and that makes me extremely excited for future works."
– Adriyanna K. Zimmermann

"Hidden Huntress definitely does not suffer 'Middle Book Syndrome'. It is full of action and gives us what we long for too. I am even more in love with the series than after finishing the first book!"
– The Reading Nook NZ

"Overall, Hidden Huntress undeniably surpasses as a sequel to Stolen Songbird. I was blown away by the ending and cannot wait for book 3! Danielle L. Jensen has shaped an underground city of magical creatures into one of my most valued book worlds – and that makes me extremely excited for future works."
– Life Writings of a Reader

"The book was suspenseful, nerve-racking, drama, mystery, romance, and everything good rolled together and I experienced an onslaught of emotions to the point were I needed to take a break or I wasn't going to be able to deal. I honestly can't wait for the next book. Seriously, I need a copy, a clue, a hint of something right now because after that ending I just don't know how I'm going to survive."
– Musical Bibliolater

"Hidden Huntress was everything and more that I wanted in a sequel! I can't even begin to tell you how much I loved Stolen Songbird, so I had some pretty high expectations for this book and it totally delivered. The pages are full of action, mystery, romance, and a very intriguing plot!"
– Dark Faerie Tales

"After having LOVED Stolen Songbird, Hidden Huntress had some big shoes to fill as far as expectations go. And I am happy to say that Danielle Jensen did not disappoint. Although Hidden Huntress was a different kind of story, it was every bit as exciting and wildly imaginative as its predecessor."
– The Quiet Concert

"I loved this book so much. There were so many different elements at play that came together to make an excited, riveting, infuriating and suspenseful tale that kept me mesmerized from cover to cover.Danielle did a wonderful job of making sure all of the pieces to this story had a purpose and that they all came together seamlessly in the end. The mystery, danger, suspense, political intrigue, family ties, friendship, treachery, betrayal, power and love. It all was just so good!"
– A-Novel-Ty

"Hidden Huntress was a solid second book to this series, the plot developed quite a bit and set itself up very nicely for the final book in this series. I CAN'T WAIT! There are so many different things that could happen in the last book and I'm excited to find out If you're a fan of YA romance/fantasy, I highly recommend this series!"
– These Paper Hearts

"Hidden Huntress opens up the world, simply put. It felt bigger and more encompassing, upping the ante for all involved. The pull of the story was irresistible, given how so much more now rests on the success of our protagonists. Everything that the first book set us up for comes to fruition, complete with welcome twists and unexpected surprises…that incredible ending sure has me eager for book three."
– The BiblioSanctum

"Hidden Huntress is suspenseful, romantic, and will have you at the edge of your seat waiting to see what happens next.  If you loved Stolen Songbird, you should read this one immediately!"
– Books Without Any Pictures

"I enjoyed Hidden Huntress immensely which delivered in every aspect as much as I expected. Thankfully it does not suffer the dreadful second book syndrome which Jenson beautifully crafted out the trilogy, where each book feels like a new chapter in Cécile and Tristian's lives."
– Escapism From Reality

"Beautifully written. This book continues the story from Stolen Songbird, but it is it's own book with it's own focus."
– Follow the Yellow Book Road

"The Malediction Trilogy is hitting the ground running in my little world. All the fairytale feel, with a totally fresh and original story line!"
– Book Frivolity

"A spectacular sequel to one of my all-time favourite books. With dark magic, a cursed kingdom, and a witch who doesn't want to be found, Cécile seems to be in more danger outside of Trollus than she was trapped within the mountain.Her quest had me racing through the story and being back in this world made me so happy. And Tristan is as dreamy as ever. I absolutely adore this series."
– Kate Ormand

"I can't believe how amazing this series is! Jensen's writing has left me astonished! Hidden Huntress was entertaining, thrilling, and incredible. I loved Stolen Songbird so much and Hidden Huntress did not disappoint."
– Extreme Bookworm

"Hidden Huntress is a brilliant addition to the Malediction Trilogy; it is a really strong second book, and it pulls the story to new dramatic heights, leading me to be looking forward to the final book. If you have enjoyed the previous book then I highly recommend that you continue on the series with this book."
– The Flutterby Room

"The way all the events unraveled and the secrets were revealed left me speechless. The cliffhanger even bigger than its predecessor!"
– Boricuan Bookworms

"I liked this book a lot, and I definitely think it had the same charm found in book one."
– Chased by My Imagination