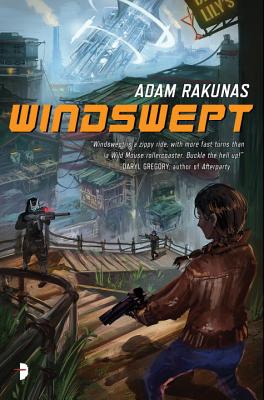 Windswept (Mass Market Paperbound)
Windswept Book One
Angry Robot, 9780857664785, 400pp.
Publication Date: September 1, 2015
* Individual store prices may vary.
or
Not Currently Available for Direct Purchase
Description
Nominated for the 2016 Philip K. Dick Award
Labor organizer Padma Mehta is on the edge of space and the edge of burnout. All she wants is to buy out a little rum distillery and retire, but she's supposed to recruit 500 people to the Union before she can. She's only thirty-three short. So when a small-time con artist tells her about forty people ready to tumble down the space elevator to break free from her old bosses, she checks it out against her better judgment. It turns out, of course, it was all lies.
As Padma should know by now, there are no easy shortcuts on her planet. And suddenly retirement seems farther away than ever: she's just stumbled into a secret corporate mission to stop a plant disease that could wipe out all the industrial sugarcane in Occupied Space. If she ever wants to have another drink of her favorite rum, she's going to have to fight her way through the city's warehouses, sewage plants, and up the elevator itself to stop this new plague.
File Under: Science Fiction Plagues, Plots & Planets - One-Eyed Wonder - Bad Tips, Good Tipples - This Little Bar I Know ]
About the Author
Adam Rakunas has worked a variety of weird jobs. He s been a virtual world developer, a parking lot attendant, a triathlon race director, a fast food cashier, and an online marketing consultant. Now a stay-at-home dad, Adam splits his non-parenting time between writing, playing the cello, and political rabble-rousing. His stories have appeared in Futurismic and the Magazine of Fantasy and Science Fiction. Windswept is his first novel. You can find Adamonline at his website: www.giro.org and on Twitter@rakdaddy"
Advertisement