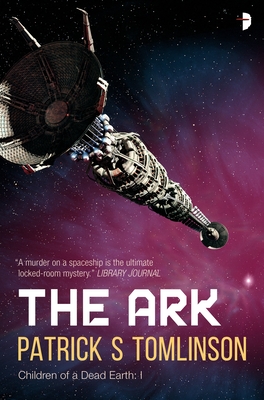 The Ark (Children of a Dead Earth #1) (Mass Market)
Angry Robot, 9780857664846, 400pp.
Publication Date: November 3, 2015
Other Editions of This Title:
MP3 CD (8/23/2016)
* Individual store prices may vary.
Description
A murder mystery set on a generation ship months from reaching Humanity's new home.

Humankind has escaped a dying Earth and set out to find a new home among the stars aboard an immense generation spaceship, affectionately named the Ark. Bryan Benson is the Ark's greatest living sports hero, enjoying retirement working as a detective in Avalon, his home module. The hours are good, the work is easy, and the perks can't be beat.

But when a crew member goes missing, Benson is thrust into the centre of an ever-expanding web of deception, secrets, and violence that overturns everything he knows about living on the Ark and threatens everyone aboard. As the last remnants of humanity hurtle towards their salvation, Benson finds himself in a desperate race to unravel the conspiracy before a madman turns mankind's home into its tomb.

File Under: Science Fiction [ Last Gun in the Universe / We're Not Alone / Poison and Nukes / Race to the End ]
About the Author
Patrick S. Tomlinson is the son of an ex-hippie psychologist and an ex-cowboy electrician. He lives in Milwaukee, Wisconsin with a menagerie of houseplants in varying levels of health, a Ford Mustang, and a Triumph motorcycle bought specifically to embarrass and infuriate Harley riders.
When not writing sci-fi and fantasy novels and short stories, Patrick is busy developing his other passion for performing stand-up comedy.

You can find Patrick online at his website:www.patrickstomlinson.com, on Twitter@stealthygeek and on Facebook.
Praise For The Ark (Children of a Dead Earth #1)…
"There is so much good stuff wrapped inside The Ark: a locked-room murder mystery, bare-knuckle action, and the kind of hard-boiled science fiction that will make your brain pop. Climb aboard."
– Adam Rakunas, author of Windswept

"The stakes are high is this thrilling debut."
– Kirkus Reviews

"Fast paced murder mystery and science fiction thriller, that kept me guessing until the very end."
– Books in Brogan

"Deftly plotted, The Ark is an excellent work of science fiction. I eagerly await Trident's Forge, the next novel in the series."
– Mutt Cafe

"A murder on a spaceship is the ultimate locked-room mystery, and debut author Tomlinson has a lot of fun dragging his detective all over the ship as he investigates who killed Laraby."
– Library Journal

"This book is fresh, new, clever. I loved everything about this book, it ambushed me with amazing prose, and compelling characters. I read it in one sitting. I cannot remember when a book was this captivating, this enthralling. More Mr. Tomlinson, please."
– Book Drunkard

"The generations of isolation in the controlled society of the Ark have left them in a setting that makes this novel different.I also enjoyed the twists that were alluded to in this book that will bring some interesting turns in the anticipated future installments in this series. I give this novel a 4.4 out of 5."
– John's Notes

"This book has a bit of everything. Science fiction, mystery, and thrills along with some action thrown in as well. A very interesting read that kept me turning the pages up to the very end."
– Word Gurgle

"The story was compelling and I definitely will be eagerly awaiting the next novel, Trident's Forge. 5*"
– Brian's Book Blog

"This is the story I wish I had written. Generation ship. Detective story. Tomlinson takes such discordant elements and weaves them into a fascinating story: a Manet painting, advanced probes, exoplanet imaging, and more. There are echoes of Robert Sawyer's Red Planet Blues here and I'm hoping that this is the start of a new subgenre: detectives in space!"
– J. Daniel Batt

"A solid read and one that I had fun reading. I really can't wait to see how future outings develop."
– Falcata Times

"Is it worth the read? If you're looking for a fusion of excellent hard sci-fi and action thriller, with a soupcon of mystery, then yes, absolutely. I'm already looking forward to seeing what the next book in the series has in store."
– SF & F Reviews

"The Ark blends two of my favorite genres – science fiction and mystery. There are plenty of twists and turns that keep readings guessing. Mystery and sci-fi fans alike will enjoy this exciting novel."
– Sci-Fi Chick

"Stunning world building, a plot that keeps you guessing and some totally old school in a new world case solving. Sci-fi at its best, a great read."
– Random Redheaded Ramblings

"The Ark feels like a real place, complete with high and low society, political problems, and even a unique sport.  The details felt logical and cohesive. This was a fun read and a damn solid first book."
– Sarah Celiann

"Oh my goodness, I SO enjoyed this book! It's got so many of the elements I look for in a good crossgenre—a nifty mystery with the ultimate locked room (can't get any more locked room than a spaceship racing towards humanity's hope of a new home), a man who loves his job as a detective (largely because it's really, really easy), a dark scenario and yet some light humor and a potential end to our species."
– Buried Under Books

"The Ark is an extremely fast page turner, to both unspool the mystery, and immerse oneself in the main character and his plight."
– Skiffy & Fanty

"Stunning world building, a plot that keeps you guessing and some totally old school in a new world case solving. This is a great start to the series as the ending does leave you wanting more. Sci-fi at its best, a great read."
– Heather Duff

"I really enjoyed this book. I was entertained; I was interested and involved.  And I really look forward to following these people as their journey continues."
– Looking for a Good Book

"The writing is excellent, the pace superb and it's one of those books that feels like a quick read until you look out the window and see the sun rise, realising you've been reading for several hours."
– The British Fantasy Society

"The Ark and Patrick S. Tomlinson certainly deserve more recognition and I strongly urge you to become their next supporter."
– Team Tynga's Reviews

"I was instantly hooked."
– Horror Delve

"Tomlinson manages to deliver a fun, thrilling story that combines an exciting police thriller with thoughtful science fiction."
– The Mad Professah Reviews

"A classic sci-fi novel."
– Deep Ground
or
Not Currently Available for Direct Purchase