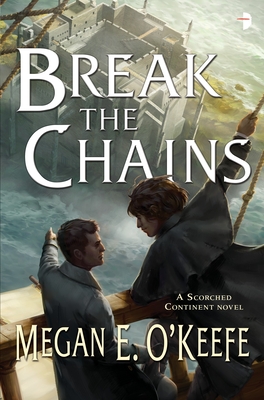 Break the Chains (The Scorched Continent #2)
Mass Market

* Individual store prices may vary.
Description
As the city that produces the most selium - that precious gas that elevates airships and powers strange magic - Hond Steading is a jewel worth stealing. To shore up the city's defenses, Detan promises his aunt that he'll recover Nouli, the infamous engineer who built the century gates that protect the imperial capital of Valathea. But Nouli is imprisoned on the Remnant Isles, an impervious island prison run by the empire, and it's Detan's fault. 

Detan doesn't dare approach Nouli himself, so his companions volunteer to get themselves locked up to make contact with Nouli and convince him to help. Now Detan has to break them all out of prison, and he's going to need the help of a half-mad doppel to do it.

File Under: Fantasy [Century Gates / The Remnant Isles / Break In, Break Out / Away, Away and Up!]
Praise For Break the Chains (The Scorched Continent #2)…
"I must confess that I tore through this instalment, and I'm really looking forward to the next one."
– Sci-Fi and Fantasy Reviews

"I am so glad to say that this book lived up to my pretty high expectations perfectly. I loved it. Detan is back and just as cocky as ever."
– Ever the Crafter

"Break the Chains is a fantastic follow up to Steal the Sky. This is what anticipating a new fantasy series should feel like!"
– The Conversationalist

"An excellent sequel to the excellent Steal The Sky."
– Reading Trance

"The dialogue was awesome, the details were everything I wished all books would include more of and I continue to be fascinated by the harsh setting and great worldbuilding. O'Keefe masterfully manipulated my emotions and completely shredded my heart and, as a writer, I am so impressed; as the heartbroken reader, I'm anxiously awaiting Inherit the Flame."
– Erlebnisse

"Heartwarming camaraderie and an endless supply of crossbow bolts make Break the Chains one of the most fun novels of 2016."
– Cowering King

Praise for Megan E. O'Keefe:

"It's a buddy tale, a heist caper, a socioeconomic thriller and a steampunk-seasoned fantasia all at once. And it fires beautifully on all cylinders."
– Jason Heller for NPR

"Megan O'Keefe's stories are always vivid and compelling."
Tim Powers, author of Declare and Three Days to Never

"Megan O'Keefe's prose is so full of fascinating twists and delights, you won't want to put it down. Go ahead, open it up: I dare you!"
David Farland, author of the bestselling Runelords series

"Come for the heist, stay for the inventive world building."
– Kirkus Reviews

"A fun, page turning debut."
– SF Signal

"The tension rises throughout, leading up to an action packed third act, with some characters living up to their full potential. Mysteries keep unfolding, and you never truly learn the whole story, which means that there is now yet another series that I'm eagerly anticipating the follow up to."
– Fantasy Faction

"Steal the Sky is a fun secondary-world adventure with plenty of exciting action, surprising twists, and wonderful payoffs to small seeds skillfully laid throughout the story."
– Lightspeed Magazine

"Holy sh**ballz this was good. The storyline and world building were impeccable as were the depth of the characters that inhabited it. I am really looking forward to more from this author."
– Koeur's Book Reviews

"But there's something relentless about the pacing of the text, and it picks up ever-increasing speed from about the middle onward – and by the end, it's an absolute juggernaut of prose, which I couldn't stop reading. There's something for everyone – witty banter, realpolitik, elusive and wonderful magic, the occasional stabbing."
– Sci-Fi & Fantasy Reviews
Angry Robot, 9780857664938, 400pp.
Publication Date: October 4, 2016
About the Author
Megan E O'Keefe lives in the Bay Area of California and makes soap for a living. (It's only a little like Fight Club.) She has worked in arts management and graphic design, and spends her free time tinkering with anything she can get her hands on.
 
meganokeefe.com
twitter.com/meganofblushie

Author hometown: Bay Area, California
or
Not Currently Available for Direct Purchase