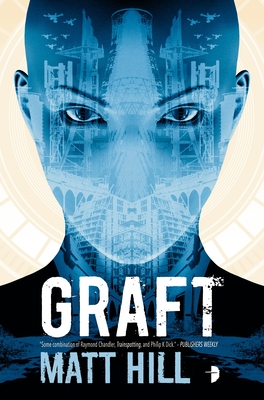 Graft (Mass Market)
Angry Robot, 9780857664990, 448pp.
Publication Date: February 2, 2016
Other Editions of This Title:
MP3 CD (7/4/2017)
* Individual store prices may vary.
Description
Manchester, 2025. Local mechanic Sol steals old vehicles to meet the demand for spares. But when Sol's partner impulsively jacks a luxury model, Sol finds himself caught up in a nightmarish trans-dimensional human trafficking conspiracy.

Hidden in the stolen car is a voiceless, three-armed woman called Y. She's had her memory removed and undertaken a harrowing journey into a world she only vaguely recognises. And someone waiting in the UK expects her delivery at all costs.

Now Sol and Y are on the run from both Y's traffickers and the organisation's faithful products. With the help of a dangerous triggerman and Sol's ex, they must uncover the true, terrifying extent of the trafficking operation, or it's all over.

Not that there was much hope to start with.

A novel about the horror of exploitation and the weight of love, Graft imagines a country in which too many people are only worth what's on their price tag.

File Under: Science Fiction [ Y the Last Girl / So Much to Answer For / Under the Skin / Armed & Dangerous ]
About the Author
Matt Hill was born in 1984 and grew up in Tameside, Greater Manchester. After completing a journalism degree at Cardiff University, he trained as a copywriter. He now lives and works in London.

His first novel, The Folded Man, was runner-up in the 2012 Dundee International Book Prize.

You can find Matt online at his website:matthewhillswebsite.co.uk, on Twitter @matthewhill.
Praise For Graft…
"Graft is exactly what science fiction should be right now: it's brutally dark, twisted at its heart, with an incredible sense of foreboding about where we could end up if our mistakes aren't put right. Beautifully written, engagingly compulsive, it's one of the best books I've read in a long time."
– James Smythe, Arthur C Clarke Award-nominated author of Way Down Dark
"England as a wasteland ruled by crime, car jacking as a doorway to love and morality, and plenty of body horror to mix with your posthumanism: Graft is a brilliant eulogy for our ruined future."
– Edward J Rathke, author of Noir: A Love Story
"The collapse is already here, it's just not evenly distributed. Graft is a compelling, fast-moving work of austerity science fiction. High tech rubs up against low lives, battered Britishness struggles to get by in the face of imminent inhumanities. A powerful neo-noir."
– Matthew De Abaitua, author of If Then
"Hill captures the dark underbelly of Manchester in visceral prose. There is a unique horror in Y's predicament, and Hill renders it in chilling terms. Hill's world is tinged with a sense of foreboding in this refreshing take on a futuristic mystery."
– Publishers Weekly
"Hill's prose is an utter dream, the sooty grit of his 2025 Manchester practically coats the reader's hands."
– Bad Cantina
"A magnetic, intricate and excitingly promising second novel by the British writer."
– SF Signal
"Hill's mean and broken future Manchester is pretty inimitable. You'll meet some amazing characters navigating some profoundly dangerous situations in an environment of true weirdness that has a touch of the William Gibsons about it whilst at the same time presenting a science fiction that's very personal, very British. In a word, it's fantastic."
– Nina Allan
"I loved how the story was structured. I enjoy the slowly finding out what there is to find out, and still having questions at the end, because that is how life works; you don't get anything in a clearcut package."
– Reading the Thing
"Graft depicts a mesmerizing world of corruption. 4/5*"
– Mutt Cafe

"A searing book, but an excellent, cracking read."
– Blue Book Balloon
"As dystopian near-futures go, Graft cuts close to the bone in every sense. Hill once again does an excellent job of exploiting our fault lines."
– One More
"I've never read anything like this, and I suspect I never will again. This gorgeous, heartbreaking book will stay with you long after you finish it. Matt Hill is a huge talent and I can't wait to see what he has in store next."
– My Bookish Ways
"Hill's gritty and dark prose knifes its way into the reader's subconscious."
– Iain Maloney for Shoreline of Infinity
"Posthumanism, science fiction, an amazing plot with this Blade Runner-like context. Amazing reading. I recommend this very much."
– Donde Acaba El Infinito
"Scifi at its best – a cautionary tale of tech run amuck and an insightful expose of the sins of human trafficking."
– Power of Pop
"Cerebral and suspenseful, Graft tackles hefty themes of ownership and exploitation without ever losing track of its own distinct voice."
– Leftlion
"Hill's prose is wonderfully off-kilter… Graft is tried and true cyberpunk that bears its influences on its sleeve."
– Speculiction
For Matt Hill's debut novel,
The Folded Man
"Captures the smell and essence of Britain through its main character, his desires, addictions and strange courage. Written with direct vividness that keeps one inside its totally realised world."
– Stephen Fry, Dundee International Book Prize judge 2012
"Some combination of Raymond Chandler, Trainspotting, and Philip K Dick, Hill's unsettling novel is not an escapist fantasy, but rather a call to arms, a plea to change the future."
– Publishers Weekly
"A memorable debut with pathos, dark humour and true heart."
– Interzone
or
Not Currently Available for Direct Purchase