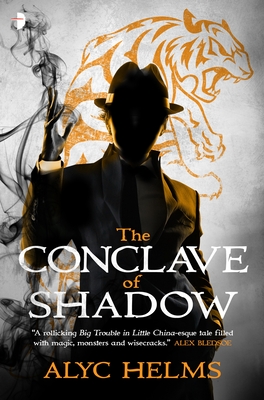 The Conclave of Shadow (Mass Market)
Missy Masters #2
Angry Robot, 9780857665188, 336pp.
Publication Date: July 5, 2016
* Individual store prices may vary.
Description
The line between enemy and ally is thinner than a shadow's edge.

Ever since she saved the spirit guardians of China by selling out to her worst enemy, Missy Masters -- a.k.a. the pulp hero Mr. Mystic -- has been laying low. But when knights serving the Conclave of Shadow steal secret technology from a museum exhibit on the Argent Aces, everyone looks to Mr. Mystic for help. If Missy doesn't want her masquerade blown, she'd better track down the thieves, and fast.

But stolen tech turns out to be the least of her problems. Recent events have upset the balance of power in the Shadow Realms, removing the barriers that once held the ravenous Voidlands in check. Their spread threatens destruction in the mortal realm as well... and only the Conclave stands ready to push them back.

In a world of shadow, telling friends from enemies is easier said than done. But if she wants to save San Francisco, Missy will have to decide who to trust. Including her own instincts, which tell her that something is stalking her with murder in mind...

File Under: Fantasy [ Alcatraz Revisited | Blood-Dimmed Tide | The Lurking Tiger | Out of the Bottle ]
About the Author
ALYC HELMS did her graduate work in anthropology and folklore, which makes her useless for just about anything except writing. She lives and writes in a dilapidated beach bungalow outside of San Francisco, near a horse trail, a troll bridge, and a raptor preserve. Her first novel, The Dragons of Heaven, was published in 2015.
Praise For The Conclave of Shadow: Missy Masters #2…
"All the fun of pulp adventure, filtered through a twenty-first century lens… a hell of a lot of fun."
– Marie Brennan, author of A Natural History of Dragons

"Dragons of Heaven combines superheroes, romance, ancient mythological China, and does it right."
 - Cassie Alexander, author of the Edie Spence series

"A tough, witty young woman who inherited her superhero grandfather's powers barrels through a rollicking Big Trouble in Little China-esque tale filled with magic, monsters and wisecracks. I loved it."
 - Alex Bledsoe, author of The Hum and the Shiver

"Your Humble Reviewers loved the crazy family relationships which caused no end of problems and mysteries in this book…If you like dark detective or superhero stories then this is the series for you."
– Bull Spec

"I'm really pleased that Helms' second book to feature Missy was as entertaining and satisfying as the first…"
– SF Crowsnest

"Infused with wit and humour, filled with a fundamentally open and kindhearted warmth, this is the contemporary speculative fiction at its stylistic best."
– Bastian's Book Reviews

"Like the first book, The Conclave of Shadow whetted my appetite for further adventures set in this intriguing mix of genres and worlds."
– Locus, issue 670

"The story is good and fast-paced, but what added to my enjoyment was the faithful realization of the setting. Helms captures the city of San Francisco, and also the pain-drenched but fascinating island of Alcatraz."
– Fantasy Literature Review
or
Not Currently Available for Direct Purchase