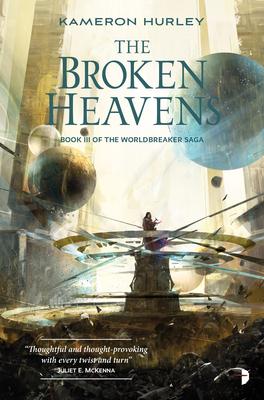 The Broken Heavens (The Worldbreaker Saga #3) (Paperback)
Angry Robot, 9780857665621, 464pp.
Publication Date: January 14, 2020
* Individual store prices may vary.
Description
The bloodsoaked conclusion to Kameron Hurley's epic fantasy masterpiece – the Worldbreaker Saga – is unleashed.
 
The Dhai nation has broken apart under the onslaught of the Tai Kao, invaders from a parallel world. With the Dhai in retreat, Kirana, leader of the Tai Kao, establishes a base in Oma's temple and instructs her astrologers to discover how they can use the ancient holy place to close the way between worlds. With all the connected worlds ravaged by war and Oma failing, only one world can survive. Who will be sacrificed, and what will the desperate people of these worlds do to protect themselves?

File Under: Fantasy [ Parallel Lives | Ruined Mothers | Zodiac War | Ultimate Sacrifice ]
About the Author
Kameron Hurley is an award-winning author, advertising copywriter and online scribe. She has won the Hugo Award, Kitschy Award, and Sydney J Bounds Award for Best Newcomer; she has also been a finalist for the Arthur C Clarke Award, Nebula Award, Locus Award, BFS Award, the David Gemmell Morningstar Award, and the BSFA Award for Best Novel. Her non-fiction has been featured in The Atlantic, Locus, and the game-changing collection The Geek Feminist Revolution.

kameronhurley.com
twitter.com/kameronhurley

Author hometown: Dayton, Ohio, USA
Praise For The Broken Heavens (The Worldbreaker Saga #3)…
Praise and Reviews for The Worldbreaker Saga


"Kameron Hurley's 
Worldbreaker Saga
 blends science fiction and fantasy elements together in exciting and innovative ways, bringing to life magic-infused epic fantasy societies battling interdimensional foes against a climate catastrophe background."
– SyFy Wire
"The Mirror Empire is the most original fantasy I've read in a long time, set in a world full of new ideas, expanding the horizons of the genre. A complex and intricate book full of elegant ideas and finely-drawn characters."
– Adrian Tchaikovsky, author of The Shadows of the Apt series and finalist for the 2014 Gemmell Legend Award
"The Mirror Empire is epic in every sense of the word. Hurley has built a world – no, worlds – in which cosmology and magic, history and religion, politics and prejudice all play crucial roles. Prepare yourself for sentient plants, rifts in the fabric of reality, and remarkable powers that wax and wane with the stars themselves. Forget all about tentative, conventional fantasy; there's so much great material in here that Hurley needs more than one universe in order to fit it all in."
– Brian Staveley, author of The Emperor's Blades
"With vividly inventive world building and a fast-paced plot, The Mirror Empireopens a smart, brutal, and ambitious epic fantasy series. Book two is already on my must-read list."
– Kate Elliott, author of the Spiritwalker series
"Taking epic fantasy down challenging and original paths. Thoughtful and thought-provoking with every twist and turn."
– Juliet E McKenna

STARRED REVIEW: "This is a hugely ambitious work, bloody and violent, with interestingly gender-flipped politics and a host of factions to keep straight, as points of view switch often. Although it is a challenging read, the strong narrative thread in this new series from Hurley (God's War) pulls readers through the imaginative tangle of multiple worlds and histories colliding."
– Library Journal
STARRED REVIEW: "Hurley reuses old tropes to excellent effect, interweaving them with original elements to create a world that will fascinate and delight her established fans and appeal to newcomers. Readers will blaze through this opening instalment and eagerly await the promised sequel."
– Publishers Weekly

"The Mirror Empire is an extraordinary novel. The scale and invention here makes it essential reading but the characters make it remarkable. None of them are heroes and none of them have the comforting sense of having read the book they're in. They're all flawed, terrified people doing what they can to survive. Seeing them struggle even as the stakes are raised makes for a reading experience as packed as it is tense. Book 2 can't get here fast enough."
– Alasdair Stuart

"Hurley intelligently tackles issues of culture and gender, while also throwing in plenty of bloodthirsty action and well-rounded characters. This is a fresh, exciting fantasy epic that's looking to the future and asking important questions. 4****/5"
– SFX magazine

''The novel achieves what the most important fantasy strives for: it gives us a world the like of which we have never quite seen before, but that offers us some often unpleasant and provocative shocks of recognition.''
– Gary K. Wolfe, for Locus magazine