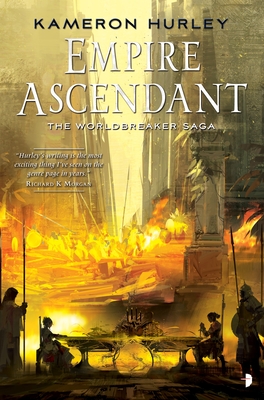 Empire Ascendant (The Worldbreaker Saga #2)
Mass Market

* Individual store prices may vary.
Other Editions of This Title:
Paperback (10/6/2015)
MP3 CD (8/9/2016)
Description
A "completely original and inventive" epic fantasy set in a land of blood mages and sentiment plants, dark magic, and warfare on a scale that spans worlds (Locus)

Loyalties are tested when worlds collide…
 
Every two thousand years, the dark star Oma appears in the sky, bringing with it a tide of death and destruction. And those who survive must contend with friends and enemies newly imbued with violent powers. The kingdom of Saiduan already lies in ruin, decimated by invaders from another world who share the faces of those they seek to destroy.

Now the nation of Dhai is under siege by the same force. Their only hope for survival lies in the hands of an illegitimate ruler and a scullery maid with a powerful—but unpredictable—magic. As the foreign Empire spreads across the world like a disease, one of their former allies takes up her Empress's sword again to unseat them, and two enslaved scholars begin a treacherous journey home with a long-lost secret that they hope is the key to the Empire's undoing.

But when the enemy shares your own face, who can be trusted?

As the convergence between the two worlds strengthens, alliances are made and broken, magic and mayhem abound—and before it's all done, at least one world will be shattered and broken.
Praise For Empire Ascendant (The Worldbreaker Saga #2)…
"It's epic in the truest sense of the world, and fantastic in a completely original and inventive way…I read all 400-odd pages in about 12 hours, ignoring all else. My guess is you will too."
—Ysabeau Wilce for Locus

"Kameron Hurley warned us all on twitter that Terrible Things would befall the characters introduced in The Mirror Empire, and she did not lie. But she also didn't give the whole truth. Empire Ascendant is a deeply complicated book. Yes, it is dark and brutal. But it is also almost bizarrely hopeful."
—B.R. Sanders, author of Ariah

"Empire Ascendant is a masterful addition to the epic fantasy genre."
—Borrowed Worlds

"Hurley is clearly genius."
—Joe's Geek Fest

"Recommended for fans of Game of Thrones and The Emperor's Blades. Intricate, unforgiving, and fascinating."
—Libromancer's Apprentice

"Hurley has put together something very special. There are complex characters. There's a believable, if broken world. There's a plot which will absolutely knock your socks off, if you're prepared to let it. But it's also a book willing to explore more deeply, to challenge reader preconceptions and expectations, to ask the reader to invest themselves, and willing to repay that investment in a mixture of enlightenment and blood. That depth, and that narrative bravery, makes Empire Ascendant not just a very good fantasy novel, but a great one – and one very highly recommended."
—SF and F Reviews

"[Kameron Hurley] stated on twitter that this is to the first book what Empire Strikes Back is toStar Wars, but I feel she sells herself short. This book, in how it grows the themes of The Mirror Empire and builds them to dizzying, breathtaking heights is more of a Godfather Part II. Everything about it is better, greater, grander than what came before."
—View from Ascraeus

"This series just keeps getting better. It's one of the most complex sci-fi series I've read yet I quickly got back into its worlds. Should you read it? If you love digging deep into worlds and relationships among divergent people, as well as exploring what makes people tick, then I think you'll really like this series."
—Popcorn Reads

"There is something about picking up the second in a series. You already know you like the concept or you wouldn't bother to continue, but this time it's different. The story has to hold up not only to its internal standard but to your memories of the first book and it takes a skilled author to manage that. Luckily Kameron Hurley counts as a skilled author and in Empire Ascendant she unravels the story into something even bigger without once dropping the thread."
—Nerd Underground

"Although this is a second (or middle) book, things actually happen here. With the world, the scenario, and the characters already established, Hurley is free to focus on the action – and she delivers that in spades. This is a fast-paced tale that carries a sense of urgency from page one."
—The Speculative Herald

"Read this book. Well, start with book one The Mirror Empire and then once you've been sucked into this 'verse go read this one…I was totally immersed in this story."
—Susan Hated Literature

"With the world, the scenario, and the characters already established, Hurley is free to focus on the action – and she delivers that in spades. This is a fast-paced tale that carries a sense of urgency from page one. You can feel the tension oozing off the page as the characters clash, cultures collide, and worlds approach an end. The plot develops as much, if not more so, than in the first book – and not always in ways you'd expect. There are twists and turns to the tale that even the most jaded readers won't see coming, as the story careens downhill towards an uncomfortable precipice."
—Beauty in Ruins

"If you're a fan of intense fantasy with an impressive death toll, Empire Ascendant by Kameron Hurley is the book for you."
—Knitter Nerd

"I have become a Kameron Hurley… fangirl? Devotee? Acolyte? I'll say this to those who already read The Mirror Empire: Yes, you want to read this too,  and no, you will not be disappointed."
—Fat Robot

Praise for the Worldbreaker Saga and Kameron Hurley:

"Hurley reuses old tropes to excellent effect, interweaving them with original elements to create a world that will fascinate and delight her established fans and appeal to newcomers. Readers will blaze through this opening installment and eagerly await the promised sequel."
—Publishers Weekly (Starred Review)

"This is a hugely ambitious work, bloody and violent, with interestingly gender-flipped politics and a host of factions to keep straight, as points of view switch often. Although it is a challenging read, the strong narrative thread in this new series from Hurley (God's War) pulls readers through the imaginative tangle of multiple worlds and histories colliding."
—Library Journal (Starred Review)

 "Kameron Hurley is ferociously imaginative – with the emphasis on the ferocious. She writes novels that are smart, dark, visceral and wonderfully, hectically entertaining."
—Lauren Beukes, author of Zoo City and The Shining Girls

"With vividly inventive world building and a fast-paced plot, The Mirror Empire opens a smart, brutal, and ambitious epic fantasy series. Book two is already on my must-read list." 
—Kate Elliott, author of the Spiritwalker Trilogy

"There's a powerful yet elegant brutality in The Mirror Empire that serves notice to traditional epic fantasy: move over, make way, an intoxicating new blend of storytelling has arrived. These are pages that will command your attention." 
—Bradley P. Beaulieu, author of The Lays of Anuskaya trilogy

"The Mirror Empire is the most original fantasy I've read in a long time, set in a world full of new ideas, expanding the horizons of the genre. A complex and intricate book full of elegant ideas and finely-drawn characters."
—Adrian Tchaikovsky, Gemmel Legend Finalist and author of The Shadows of the Apt series

"Kameron Hurley's writing is the most exciting thing I've seen on the genre page… What Hurley's writing has (and it's something not one in a dozen genre practitioners seems able to generate) is passion. It doesn't hurt that there's also a rare freshness to the material, and a heady dash of high octane noir worked into the mix."
—Richard K. Morgan, author of The Steel Remains and the Takeshi Kovacs novels
Angry Robot, 9780857665652, 544pp.
Publication Date: November 1, 2016
About the Author
Kameron Hurley is an award-winning author and advertising copywriter.  Hurley grew up in Washington State, and has lived in Fairbanks, Alaska; Durban, South Africa; and Chicago. She has a degree in historical studies from the University of Alaska and a Master's in History from the University of Kwa-Zulu Natal, specializing in the history of South African resistance movements. 

Her essay on the history of women in conflict"We Have Always Fought" was the first blog post to win a Hugo Award. It was also nominated for Best Non-Fiction work by the British Fantasy Society.

Hurley is the author of God's War, Infidel, and Rapture, a science-fantasy noir series which earned her the Sydney J. Bounds Award for Best Newcomer and the Kitschy Award for Best Debut Novel. Her latest novel, The Mirror Empire is published by Angry Robot Books. and the sequel, Empire Ascendant, will be out in October 2015. Her first space opera, The Stars are Legion, will be published from Simon and Schuster's Saga imprint in fall of 2016.

She has won the Hugo Award twice, and been a finalist for the Arthur C. Clarke Award, Nebula Award, the Locus Award and the BSFA Award for Best Novel. Additionally, her work has been included on the Tiptree Award Honor List and been long-listed for the Gemmell Morningstar Award.
or
Not Currently Available for Direct Purchase